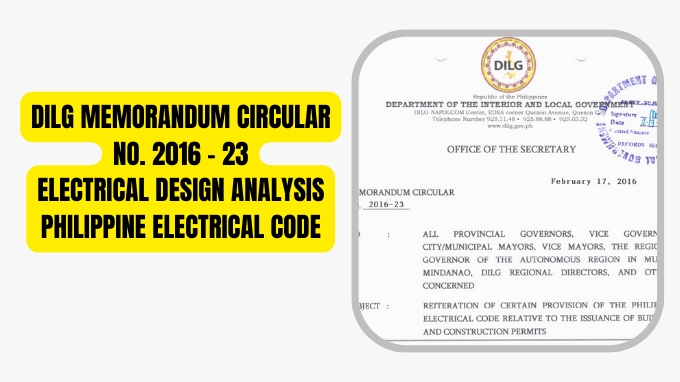 Department of Interior and Local Government
Office of the Secretary
Memorandum Circular No. 2016 – 23
February 17, 2016
To: All Provincial Governors, Vice Governors, City/Municipal Mayors, Vice Mayors, the Governor of the Autonomous Region in Muslim Mindanao, DILG Regional Directors, and others concerned.
Subject: Reiteration of certain provision of the Philippine Electrical Code relative to the issuance of Building and Construction Permits.
This Circular is in accordance with the Philippine Electrical Code, in furtherance of public safety and order in the country.
Article 1.3.2.1 (f) of the Philippine Electrical Code requires inclusion of a design analysis on the drawings, or submission of the same on separate sheets, showing the calculation of short circuit currents and voltage drop among others, to quote:
(f) Design Analysis. Design analysis shall be included on the drawings or shall be submitted on separate sheets of standard size, and shall show:
Branch circuits, sub-feeders, feeders, busways, and service entrance;
Types, ratings, and trip settings of overload protective devices;
Calculation of short circuit current for determining the interrupting capacity of overcurrent protection device for residential, commercial, and industrial establishment; and
Calculation of voltage drops.
In compliance of the above mentioned provision of the code, and to alleviate, if not totally prevent, fire incidents due to electrical overloads, faulty wirings and other electrical issues, all local Chief Executives are strongly urged to be stricter in issuing Building and Construction Permits by requiring electrical plans that include design analysis to all applicants for the said permits, and to ensure that those with existing buildings, factories and infrastructures have their respective updated design analysis and calculations.
All DILG Regional Directors and the ARMM Regional Governor are hereby directed to cause the widest dissemination of this memorandum circular to all local governments within their respective jurisdictions.
For guidance of all concerned.
Signed by:
MEL SENEN S. SARMIENTO
Secretary
For pdf file copy you can Download it here: