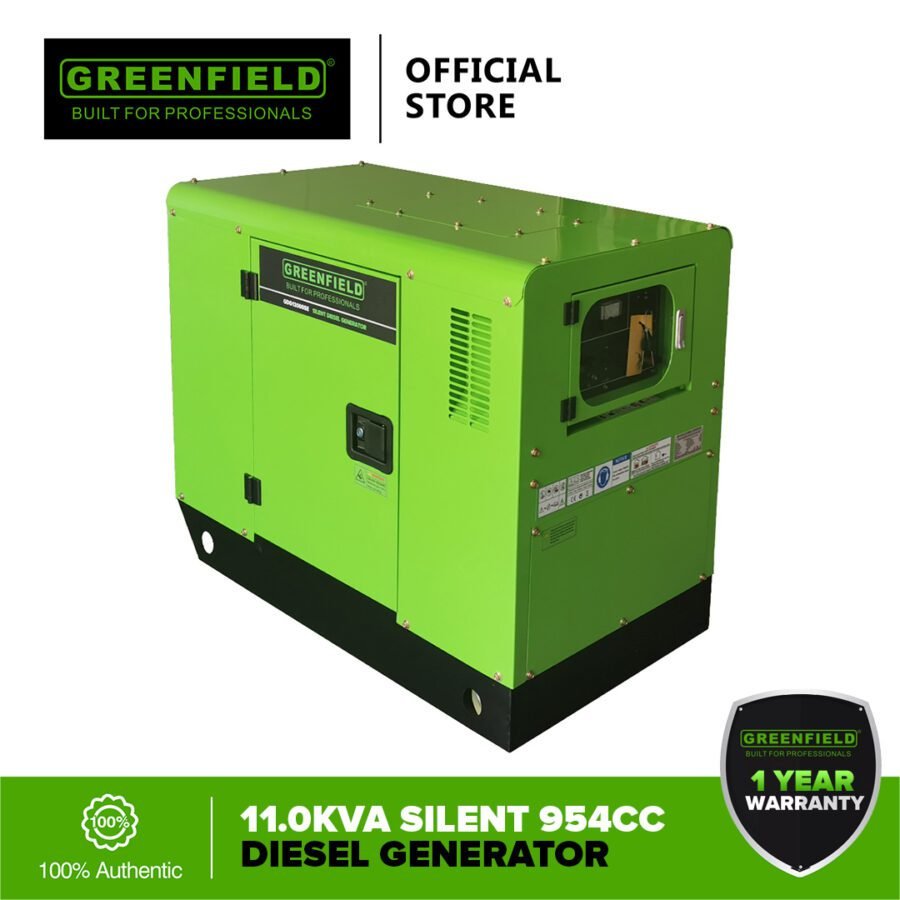 Greenfield Diesel Generator 11.0KVA Silent 954CC
Specifications:
Rated Voltage: 220V/60Hz
Max. Output: 11.0kVA
Rated Output: 10.0kVA
Starting System: Electric
Battery Type: 36AH
Noise Level: 69dB
Output: 20.0hp
Displacement: 954cc
Fuel Tank Cap.: 50.0L
Oil Capacity:3.0L
Weight: 295.0kg
Warranty type: 1 Year Warranty Policy (Repair only) / 15 days replacement.
Key Features:
1. Unmatched Power Output: With a maximum output of 11.0kVA and a rated output of 10.0kVA, this generator can effortlessly handle all your power needs, from household appliances to heavy-duty machinery.
2. Electric Start: Say goodbye to manual cranking! Our generator features an electric start system, ensuring you can power up your world with ease.
3. Whisper-Quiet Operation: Experience peace and quiet even during power outages. The Greenfield Diesel Generator boasts a noise level of just 69dB, making it quieter than your average conversation, so you can rest, work, or relax without disruption.
4. Robust and Efficient Engine: The 20.0hp engine with a displacement of 954cc ensures reliable performance and exceptional fuel efficiency, saving you money on fuel costs.
5. Extended Run Time: With a generous 50.0L fuel tank capacity and a 3.0L oil capacity, this generator can run for extended periods, giving you uninterrupted power when you need it most.
6. Built to Last: The Greenfield Diesel Generator is built to withstand the test of time, constructed with quality materials and engineering expertise, ensuring longevity and dependable performance.
7. Easy Mobility: Despite its power, this generator is designed for convenience. Move it effortlessly with its sturdy wheels and handle.
8. Warranty Assurance: We stand by the quality of our product, offering a 1 Year Warranty Policy (Repair only) and a 15-day replacement guarantee for added peace of mind.
Don't let power outages disrupt your life or business any longer. Invest in the Greenfield Diesel Generator 11.0KVA Silent 954CC, your trusted partner in reliable and quiet power generation. Say hello to uninterrupted productivity, comfort, and peace of mind.
Get your Greenfield Diesel Generator today and experience the power of tranquility!
Order Now!