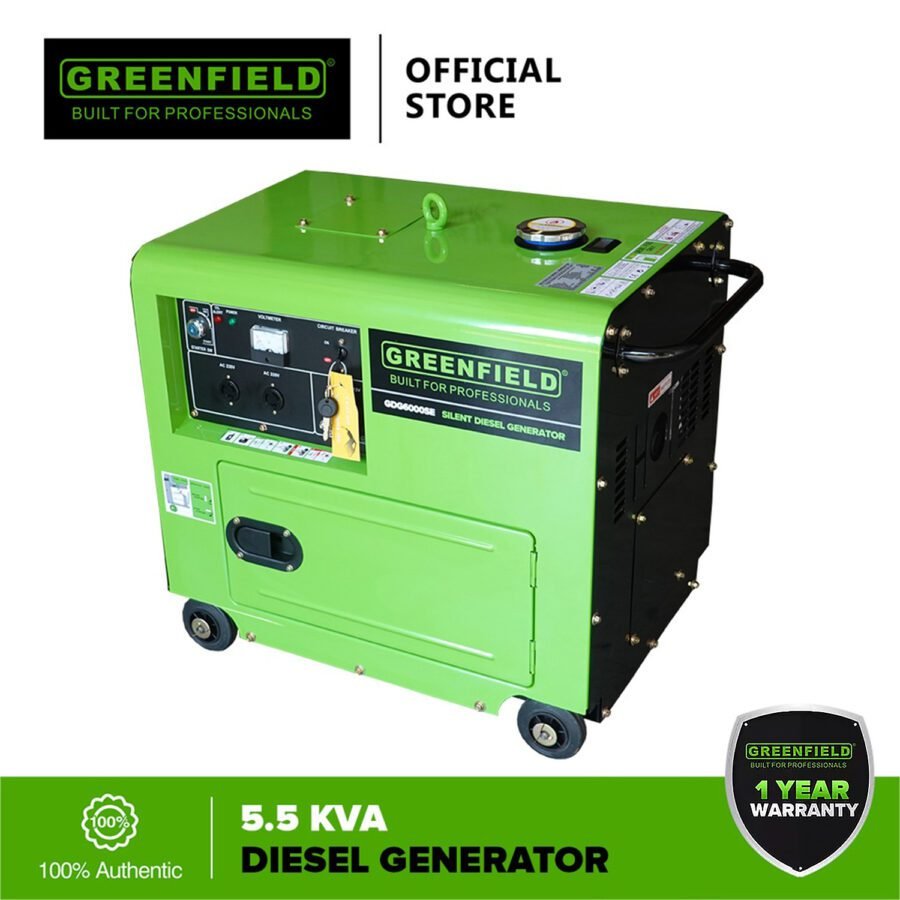 Greenfield Diesel Generator 5.5KVA Silent 418CC
Specifications:
5500 Watts Diesel Generator / 16L
Features:
Output Power:
Standby: 5500Watts
Rated: 5000Watts
Noise Level: 74dB (A)
Engine Power: 10.0Hp
Weight: 149.0kg
Warranty type: 1 Year Warranty Policy (Repair only) / 15 days replacement.
Introducing the Greenfield Diesel Generator 5.5KVA Silent 418CC – Your Reliable Powerhouse in Silence!
When it comes to uninterrupted power supply, the Greenfield Diesel Generator 5.5KVA Silent 418CC stands as the epitome of excellence. This robust and silent generator is designed to provide you with consistent and dependable power, no matter the circumstances.
High-Powered Performance: Equipped with a formidable 418CC engine, this diesel generator delivers a whopping 5500 Watts of power. Whether it's for residential backup, industrial applications, or outdoor events, this generator is your trusted source of electricity.
Generous Fuel Tank: With its 16-liter fuel tank capacity, this generator can keep your appliances and equipment running for extended periods. Say goodbye to constant refueling, and enjoy uninterrupted power when you need it most.
Whisper-Quiet Operation: The Greenfield Diesel Generator is built with a silent design, ensuring that noise won't be a concern. With a noise level of only 74dB (A), it's quieter than a typical conversation, allowing you to work or rest in peace without the disturbance of a loud generator.
Reliable Engine Power: The 10.0Hp engine is a true workhorse, capable of handling heavy loads and ensuring consistent performance over the long run. You can trust this generator to power your most essential appliances and equipment with ease.
Built to Last: Weighing in at 149.0kg, this generator is built to withstand the rigors of continuous use. Its sturdy construction and durable components ensure longevity, making it a wise investment for your power needs.
Warranty You Can Depend On: We believe in the quality and reliability of our product, which is why we offer a 1-year warranty policy for repairs and a 15-day replacement policy for added peace of mind.
Impressive Specifications:
Output Power:

Standby: 5500 Watts
Rated: 5000 Watts

Engine Power: 10.0Hp
Noise Level: 74dB (A)
Fuel Tank Capacity: 16 liters
Weight: 149.0kg
Experience the power of silence with the Greenfield Diesel Generator 5.5KVA Silent 418CC. Whether you're bracing for a power outage, need reliable electricity on a remote worksite, or simply want a backup power solution, this generator is designed to exceed your expectations. With its impressive performance and whisper-quiet operation, it's the perfect addition to your power arsenal. Make the smart choice today and enjoy the peace of mind that comes with reliable, uninterrupted power from Greenfield!
Order Now!