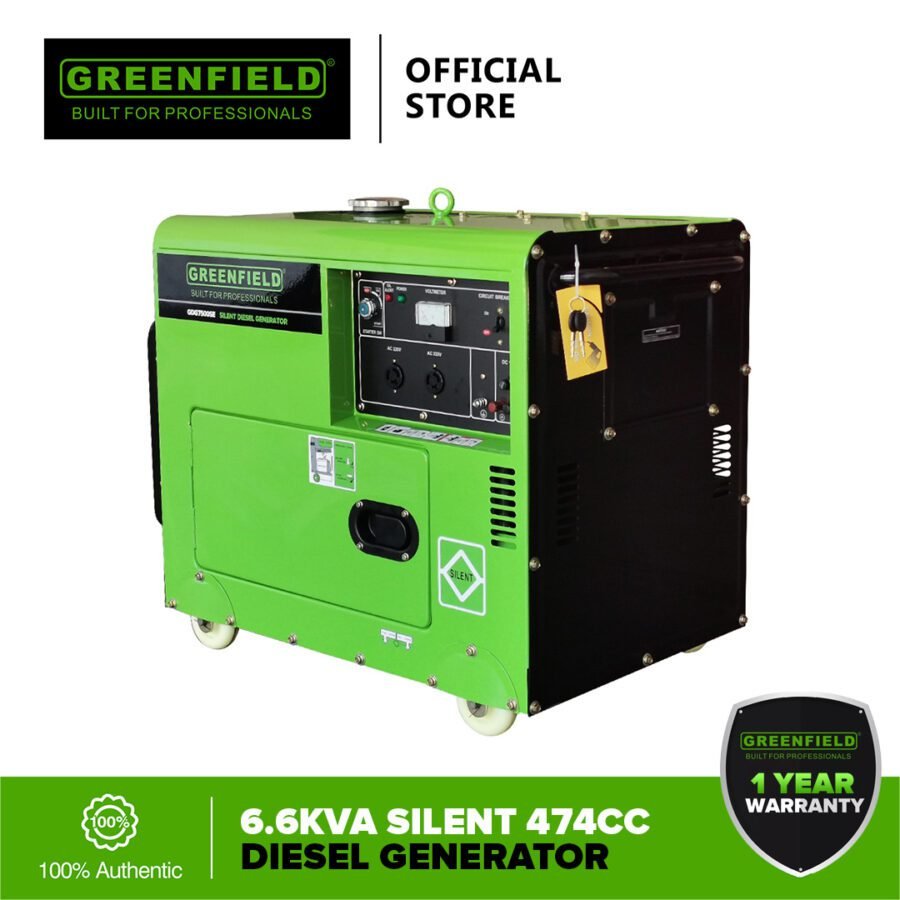 Greenfield Diesel Generator 6.6 KVA Silent 474CC
Specifications:
6600 Watts Diesel Generator / 16L
Output Power:
Standby: 6600 Watts
Rated: 6000 Watts
Noise Level: 71dB (A)
Engine Power: 12.0Hp
Weight: 160.0kg
Warranty type: 1 Year Warranty Policy (Repair only) / 15 days replacement.
Product Features:
Impressive Power Output: With a maximum output of 6600 Watts, this diesel generator is built to handle your power needs with ease. Whether it's for your home, business, or outdoor activities, it ensures that you have a reliable power source on hand.
Low Noise, High Performance: The Greenfield Diesel Generator boasts a silent operation at just 71dB (A), making it suitable for both residential and commercial use. Enjoy a peaceful environment while benefiting from its exceptional performance.
Strong and Dependable Engine: Equipped with a powerful 474CC engine delivering 12.0Hp, this generator is engineered for durability and longevity. It can handle extended usage without breaking a sweat, ensuring you always have power when you need it.
Generous Fuel Capacity: The generator features a 16-liter fuel tank, allowing for extended runtime without constant refueling. This is especially valuable during extended power outages or in remote locations.
Robust Build Quality: Weighing 160.0kg, the Greenfield Diesel Generator is built to withstand the rigors of regular use. Its rugged construction ensures that it remains reliable, even in challenging conditions.
Warranty Assurance: Rest easy with our 1 Year Warranty Policy, covering repair services. Additionally, we offer a 15-day replacement guarantee to ensure you are completely satisfied with your purchase.
The Greenfield Diesel Generator 6.6 KVA Silent 474CC is not just a power source; it's peace of mind. Whether you're preparing for emergencies, powering your construction site, or simply need a reliable backup, this generator has got you covered.
Don't let power interruptions disrupt your life. Invest in the Greenfield Diesel Generator 6.6 KVA Silent 474CC today and experience uninterrupted power whenever you need it. Order now and take the first step toward a more reliable and convenient power solution!
Order Now!