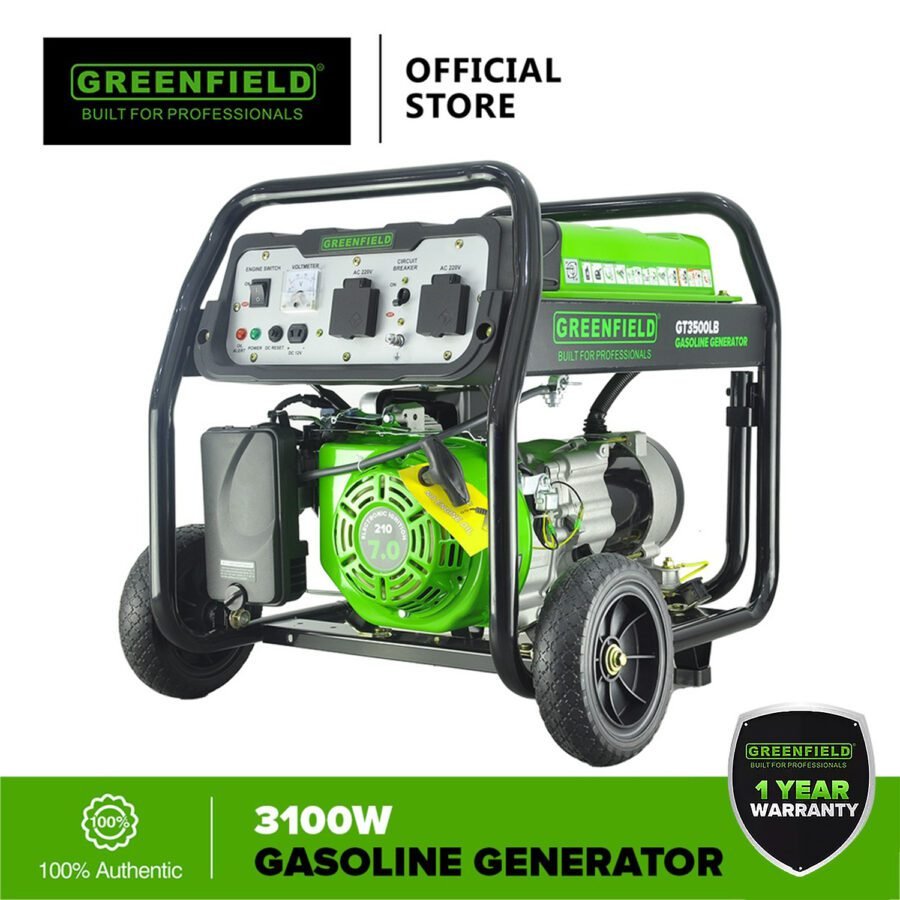 Greenfield Gasoline Generator 3.1KVA AVR 212CC
Specifications:
3100W Gasoline Generator
High Output, 212cc OHV Engine
Easy to read Fuel Gauge and Volt meter
Advanced AVR offers stable electricity.
Durable wheels and frame design enables easier carrying.
Highly effective large sized muffler for quite and low vibration engine.
Extra-large fuel tank
Low oil sensor
Weight: 39.0kg
Warranty type: 1 Year Warranty Policy (Repair only) / 15 days replacement.
Key Features:
Powerful and Efficient: With a robust 3100W output, this generator is capable of handling a wide range of applications, from keeping your lights on during a blackout to powering your tools at a job site. The 212cc OHV engine ensures consistent and efficient power generation, making it an ideal choice for both residential and commercial use.
User-Friendly Features: Monitoring your generator's status has never been easier. The easy-to-read fuel gauge and voltmeter provide real-time information about fuel levels and voltage output, giving you peace of mind knowing your equipment is in good hands.
Stability You Can Rely On: Thanks to its advanced Automatic Voltage Regulator (AVR) technology, this generator delivers stable and clean electricity, protecting your sensitive electronics from voltage fluctuations. Say goodbye to worries about power surges damaging your valuable devices.
Portable and Durable: Transporting your generator is a breeze, thanks to the durable wheels and frame design. Whether you need to move it around your property or take it to a remote location, this generator won't hold you back. The extra-large fuel tank ensures extended runtimes, reducing the need for constant refueling.
Quiet and Smooth Operation: Nobody wants a noisy generator disturbing their peace and quiet. The Greenfield Gasoline Generator features a highly effective large-sized muffler that keeps engine noise to a minimum and reduces vibrations, making it a neighbor-friendly choice.
Safety First: Your safety is our priority. This generator comes equipped with a low oil sensor that automatically shuts down the unit when oil levels are too low, preventing engine damage and prolonging its lifespan.
Reliable Warranty: We stand by the quality of our products, which is why we offer a 1-Year Warranty Policy for repairs, ensuring your investment is protected. Additionally, we provide a 15-day replacement policy for added peace of mind.
Don't let power interruptions disrupt your life or work. Invest in the Greenfield Gasoline Generator 3.1KVA AVR 212CC, and enjoy uninterrupted power whenever and wherever you need it. Whether you're facing a blackout, working on a project, or planning an outdoor event, this generator has you covered. Order yours today and experience the difference in reliability and performance that Greenfield provides!
Order Now!