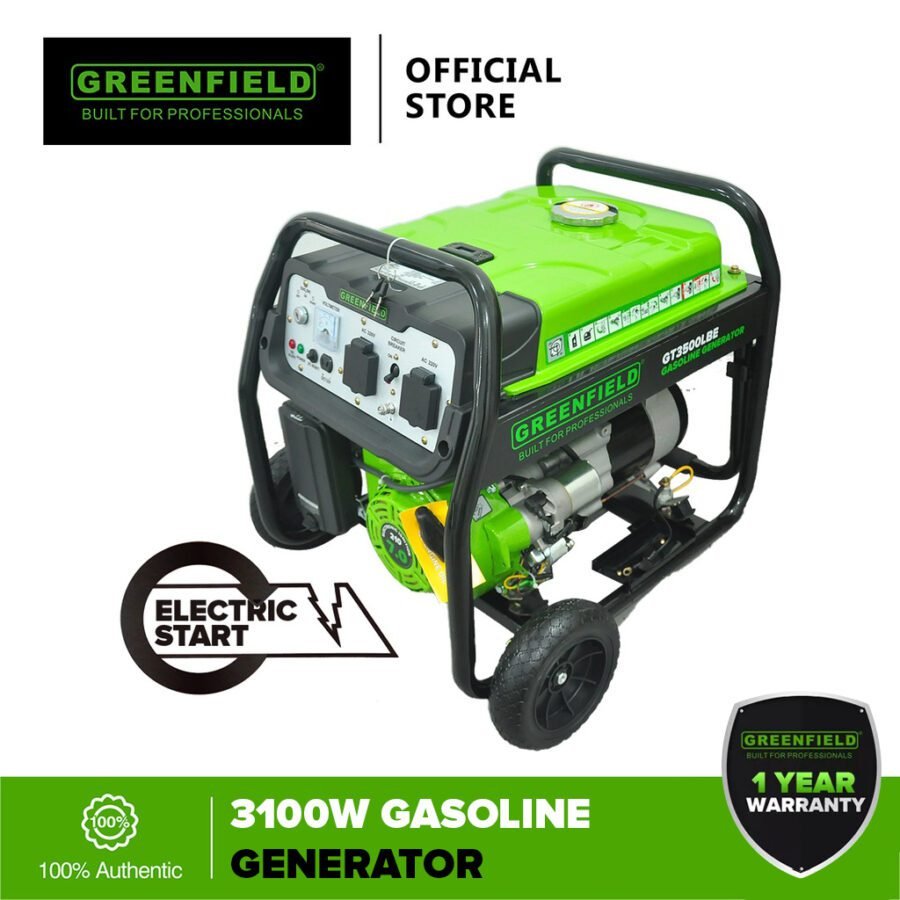 Greenfield Gasoline Generator 3100W Electric Start
Specifications:
High Output, 212cc OHV engine
Easy to read fuel gauge and volt meter
Advanced AVR offers stable electricity
Durable wheels and frame design enables easier carrying.
Highly effective large-sized muffler for quiet and low vibration engine.
Extra-large fuel tank (17L)
Low oil sensor
Electric Start
100% Copper winding
Rated Voltage: 220V/60Hz
Max. Output: 3.1kVA
Rated Output: 2.8kVA
Starting System: Recoil/Electric Start
Noise Level: 68dB @ 7m away
Engine Power: 7.0hp
Oil Capacity: 0.6L
Continuous running @ 75% load: 8.7 hrs
Net weight: 50kg
Introducing the Greenfield Gasoline Generator 3100W Electric Start – Your Power Solution!
Are you tired of power outages disrupting your life? Need a reliable source of electricity for your home, business, or outdoor adventures? Look no further than the Greenfield Gasoline Generator 3100W with Electric Start, the ultimate power companion to keep your world running smoothly.
High-Performance Engine: Equipped with a robust 212cc OHV engine, this generator delivers a high-output performance that can handle your power needs with ease. Whether you're running essential appliances or tools, this generator has the power to get the job done.
User-Friendly Features: Keeping track of your generator's status is a breeze with the easy-to-read fuel gauge and volt meter. You'll always know when it's time to refuel, ensuring uninterrupted power supply. The advanced Automatic Voltage Regulator (AVR) technology guarantees stable and reliable electricity for your sensitive electronics.
Portability Redefined: The Greenfield Generator's durable wheels and frame design make it incredibly portable, allowing you to take it wherever you need power. Whether you're using it at home, on a job site, or for outdoor events, you can effortlessly transport this generator to your desired location.
Quiet and Efficient: Say goodbye to noisy generators! Our innovative design features an extra-large muffler that minimizes engine noise and vibrations, allowing you to enjoy a peaceful environment while the generator runs. Your neighbors will thank you.
Extended Run Time: With its extra-large 17L fuel tank and low oil sensor, the Greenfield Generator ensures long-lasting power without constant refueling. The low oil sensor protects your generator by shutting it down automatically when oil levels are low, preventing damage to the engine.
Electric Start Convenience: Starting your generator has never been easier. With the electric start feature, you can power up your generator effortlessly, saving you time and effort.
Built to Last: We believe in quality, which is why our generator boasts 100% copper winding, ensuring durability and longevity. It's a reliable investment that will provide you with power for years to come.
Don't let power disruptions slow you down. Invest in the Greenfield Gasoline Generator 3100W Electric Start and enjoy peace of mind knowing you have a reliable source of power whenever you need it. Whether it's for emergency backup power or recreational use, this generator is your trusted partner in ensuring a continuous and stable supply of electricity. Make the smart choice today and experience the Greenfield difference!
Order Now!