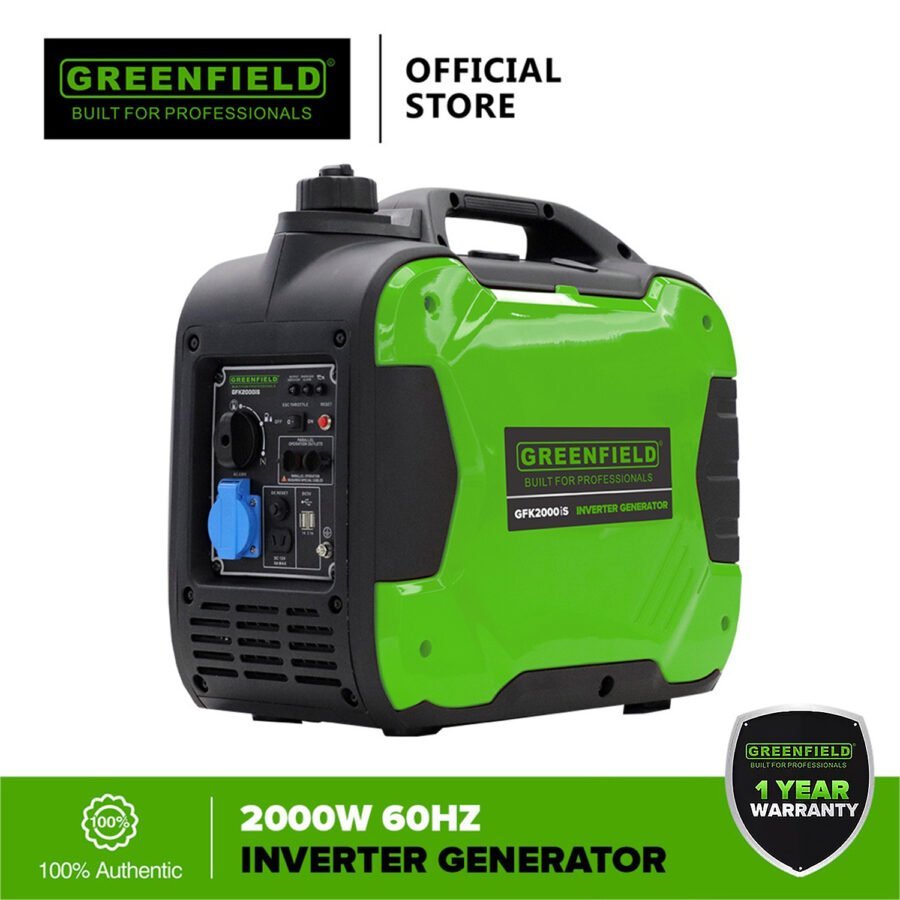 Greenfield Inverter Generator Gasoline 2000W 60Hz SMART RPM
Specifications:
High Output 79.0cc engine.
Up to 6.0 hours continuous running at 50% load
Economy control for saving fuel
Easy to use control panel
Large handle carrying by one or two people.
4.0 liter Fuel Tank Capacity
Easy Start with Auto-Decompression System
Low Oil Sensor
Weight: 22.0kg
Warranty type: 1 Year Warranty Policy (Repair only) / 15 days replacement.
Please note: Warranty does not cover misuse or mishandle of the unit.
When it comes to portable and reliable power generation, the Greenfield Inverter Generator Gasoline 2000W with SMART RPM is the ultimate choice. This compact and feature-packed generator is designed to provide you with a convenient and efficient power supply for all your needs.
High-Output Performance: Don't let its size fool you! This generator is equipped with a high-output 79.0cc engine that punches above its weight class. Whether you're camping, tailgating, or need backup power at home, the Greenfield Inverter Generator delivers consistent and dependable performance.
Extended Run Time: With a 4.0-liter fuel tank capacity, this generator can run continuously for up to 6.0 hours at 50% load. The economy control feature ensures that you get the most out of every drop of fuel, making it an eco-friendly and cost-effective choice.
User-Friendly Design: Operating this generator is a breeze, thanks to the user-friendly control panel. Easily monitor and adjust settings to meet your specific power requirements, and enjoy the convenience of straightforward power management.
Portability at Its Best: Designed for easy transport, this generator features a large handle that allows one or two people to carry it effortlessly. Whether you're on the move or need power in different locations, this generator is your go-to solution.
Reliable Starting: Starting is hassle-free, even in challenging conditions, thanks to the Auto-Decompression System. Get your power source up and running with minimal effort.
Built-in Safety Features: Your safety is paramount, and that's why this generator comes equipped with a low oil sensor. It automatically shuts down the generator if oil levels drop too low, preventing potential engine damage and ensuring the longevity of your investment.
Compact and Lightweight: Weighing in at only 22.0kg, this generator is incredibly compact and easy to store. Its lightweight design makes it an excellent choice for those on the go or with limited storage space.
Warranty You Can Trust: We stand by the quality of our product. That's why we offer a 1-year warranty policy for repair and a 15-day replacement policy for your peace of mind.
Impressive Specifications:
Engine: 79.0cc
Max Output: 2000W
Rated Frequency: 60Hz
Fuel Tank Capacity: 4.0 liters
Weight: 22.0kg
Experience the convenience and power of the Greenfield Inverter Generator Gasoline 2000W 60Hz with SMART RPM. Whether you're exploring the great outdoors or need a reliable backup power source, this generator is designed to exceed your expectations. Compact, efficient, and easy to use, it's the perfect addition to your power arsenal. Make the smart choice today and enjoy the freedom of on-demand power with Greenfield!
Order Now!