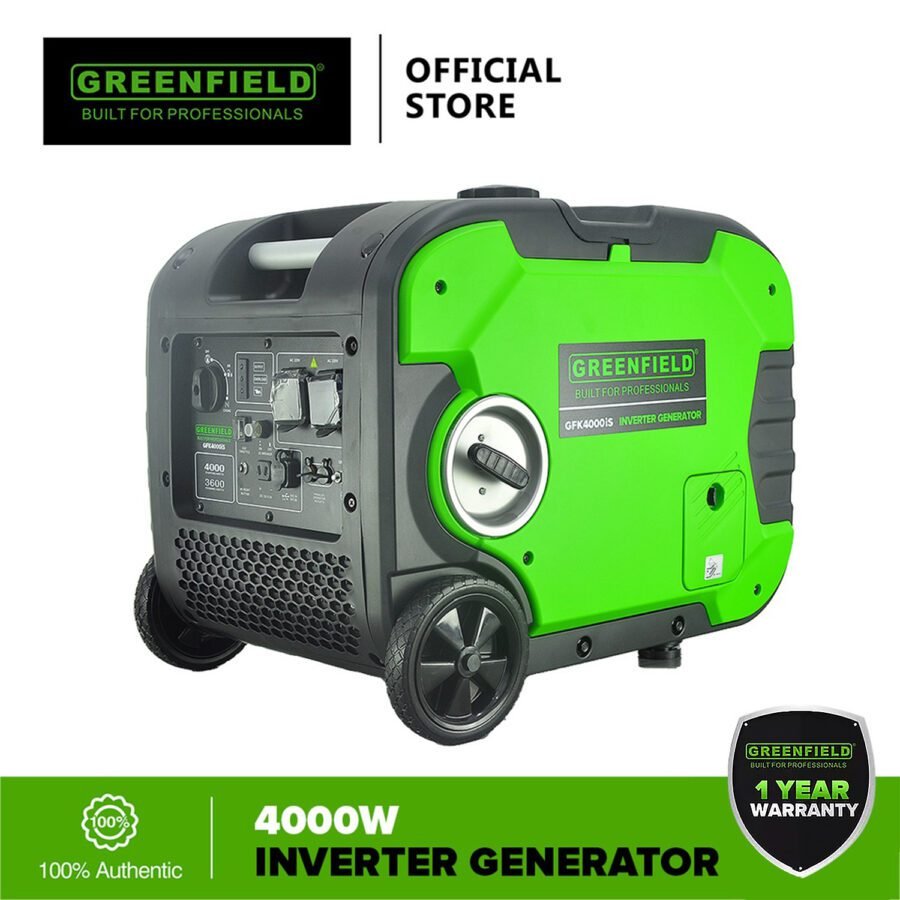 Greenfield Inverter Generator Gasoline 4000W 60Hz SMART RPM
Specifications:
High Output, 223cc Engine
Up to 12 hours continuous running at 50% load
Economy Control for saving fuel
Easy to use control panel.
Wheels for easy handling.
10 Liters Fuel tank capacity.
Easy start, with auto- Decompression system.
Low oil sensor.
Warranty type: 1 Year Warranty Policy (Repair only) / 15 days replacement. Please note: Warranty does not cover misuse or mishandling of the unit.
Introducing the Greenfield Inverter Generator Gasoline 4000W 60Hz with SMART RPM – Power Beyond Limits!
When you need a reliable source of electricity that goes above and beyond, the Greenfield Inverter Generator Gasoline 4000W with SMART RPM is your ultimate choice. This powerhouse generator is designed to provide you with a seamless and dependable power supply, no matter the situation.
High-Output Performance: Featuring a robust 223cc engine, this generator delivers impressive power output, ensuring it can handle any task with ease. From powering your essential appliances to running your power tools, trust in the Greenfield Inverter Generator for consistent, high-performance results.
Extended Run Time: With a 10-liter fuel tank capacity, this generator can run continuously for up to 12 hours at 50% load. The economy control feature optimizes fuel consumption, ensuring you get the most mileage out of every drop of fuel, making it both environmentally friendly and cost-effective.
User-Friendly Design: Operating this generator is a breeze, thanks to the intuitive control panel. Easily monitor and adjust settings to meet your specific power needs, and enjoy the convenience of straightforward power management.
Portability at Its Best: The built-in wheels make transporting this generator effortless. Whether you're moving it around a job site or taking it on the road for outdoor adventures, you'll appreciate the ease of handling this generator provides.
Reliable Starting: Starting your generator has never been smoother. The auto-decompression system ensures that starting is effortless, even in cold weather or high altitudes. You can count on this generator to kick into action when you need it most.
Built-in Safety Features: We care about your safety and the longevity of your generator. That's why this generator comes equipped with a low oil sensor that automatically shuts down the unit if oil levels drop too low, preventing potential engine damage.
Warranty You Can Trust: We stand by the quality of our product, which is why we offer a 1-year warranty policy for repairs and a 15-day replacement policy for your peace of mind. Please note that the warranty does not cover misuse or mishandling of the unit.
Impressive Specifications:
Engine: 223cc
Max Output: 4000W
Rated Frequency: 60Hz
Fuel Tank Capacity: 10 liters
Experience the power and dependability of the Greenfield Inverter Generator Gasoline 4000W 60Hz with SMART RPM. Whether you need a reliable backup power source for your home or a portable powerhouse for your outdoor adventures, this generator is designed to exceed your expectations. Make the smart choice today and bring home the Greenfield Inverter Generator – where power meets performance!
Order Now!