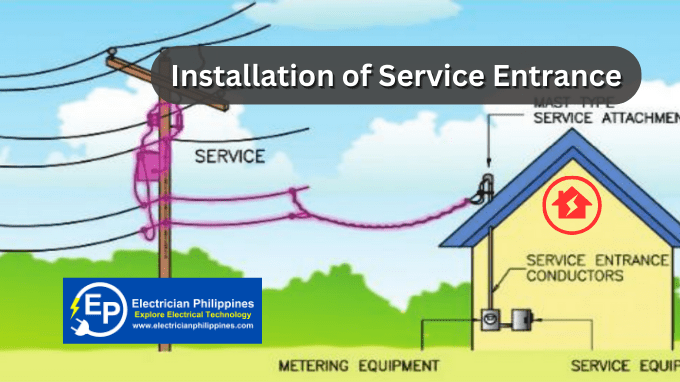 DEFINITION
Service – The conductors and equipment for delivering electric energy from the serving utility to the wiring system of the premises served.
NUMBER OF SERVICES TO A BUILDING
GENERAL RULE ONE SERVICE TO ONE BUILDING
REMINDER: IT IS IMPORTANT WHEN READING AND UNDERSTANDING THE CODE, CAREFULLY NOTE IF THE REFERENCE IS TO A BUILDING OR AN OCCUPANT UNIT IN A MULTIPLE-OCCUPANCY BUILDING.
EXCEPTIONS TO THE GENERAL RULE ONE SERVICE TO ONE BUILDING EXCEPTIONS CLASSIFIED UNDER 4 GROUPS
Special Conditions
Special Occupancies
Capacity Requirements
Different Characteristics (of service – voltages, frequencies, phases, power rates)
UNDER SPECIAL CONDITIONS
Fire pumps.
Emergency systems.
Legally required standby systems.
Optional standby systems.
Parallel power production systems.
Systems designed for connection to multiple sources of supply for the purpose of enhanced reliability.
UNDER SPECIAL OCCUPANCIES
Multiple-occupancy building where there is no available space for service equipment accessible to all occupants.
Multiple-occupancy building or group of single detached buildings owned or operated/managed by one (1) person or entity and where spaces are available, a main service shall be allowed to serve the service-entrance equipment of each occupant and common loads, if any.
A single building or other structure sufficiently large to make two or more services necessary.
WHY THE DIFFERENCE?
Exception No. 1, addresses installations where each occupant unit is served by one set of service-entrance conductors from the service/service point to the service equipment.
Exception No. 2, on the other hand, addresses installations where there is a main set of service-entrance conductors from which several individual (or sub-sets of) service-entrances are tapped and ran to the respective occupant unit's service equipment. The existence of the main set of service-entrance conductors dictates the need for a building manager who will be responsible for its upkeep.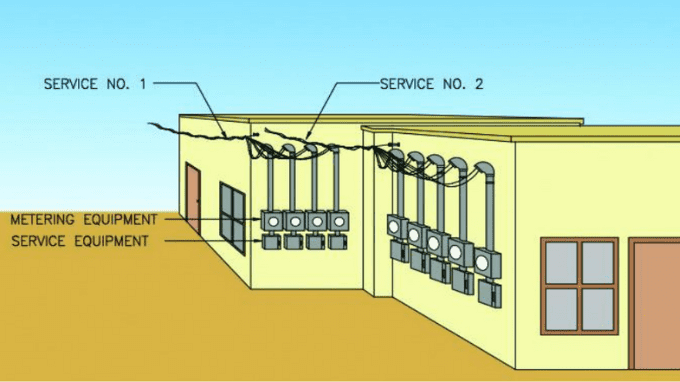 UNDER CAPACITY REQUIREMENTS
Where the capacity requirements are in excess of 2,000 amperes at a supply voltage of 600 volts or less
Where the load requirements of a single-phase installation are greater than the serving agency normally supplies through one service (Note: Meralco services 1-phase request up to 75 kva transformer capacity.)
UNDER DIFFERENT CHARACTERISTICS
Additional services shall be permitted for different voltages, frequencies, or phases, or for different uses, such as for different rate schedules.
INSTALLATION METHODS
OVERHEAD AND UNDERGROUND SERVICE-ENTRANCE CONDUCTORS
SPLICES AND TAPS ON SERVICE-ENTRANCE CONDUCTORS
WHEN SERVICE-ENTRANCE CONDUCTORS ARE CONSIDERED STILL OUTSIDE A BUILDING
SERVICE-ENTRANCES
DEFINITIONS
Service Drop – The overhead service conductors from the last pole or other aerial support to and including the splices, if any, connecting to the service-entrance conductors at the building or other structure.
Service Lateral – The underground service conductors between the street main, including any risers at a pole or other structure or from transformers, and the first point of connection to the service-entrance conductors in a terminal box or meter or other enclosure, inside or outside the building wall. Where there is no terminal box, meter, or other enclosure, the point of connection is considered to be the point of entrance of the service conductors into the building.
Service-Entrance Conductors, Overhead System – The service conductors between the terminals of the service equipment and a point usually outside the building, clear of building walls, where joined by tap or splice to the service drop.
Service-Entrance Conductors, Underground System – The service conductors between the terminals of the service equipment and the point of connection to the service lateral.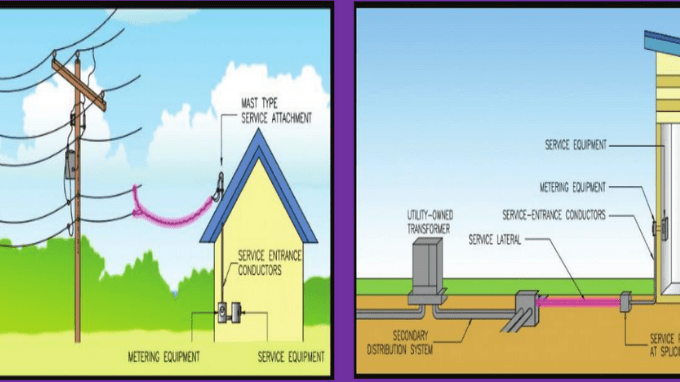 MATCHING SERVICE DROP OR LATERAL TO SERVICE-ENTRANCE CONDUCTORS
GENERAL RULE 

ONE SERVICE DROP OR LATERAL TO ONE SET OF SERVICE-ENTRANCE CONDUCTORS.
THE CODE HAS 5 EXCEPTIONS TO THE RULE WHICH PERMIT MORE THAN ONE SET OF SERVICE-ENTRANCE CONDUCTORS CONNECTED TO ONE SERVICE DROP OR LATERAL.
Exception No. 1: A building shall be permitted to have one set of service-entrance conductors for each service, as defined in 2.30.1.2, run to each occupancy or group of occupancies.
Exception No. 2: Where two to six service disconnecting means in separate enclosures are grouped at one location and supply separate loads from one service drop or lateral in multiple-occupancy building or group of single detached buildings owned/managed/operated by a person or entity, one set of service-entrance conductors shall be permitted to supply each or several such service equipment enclosures.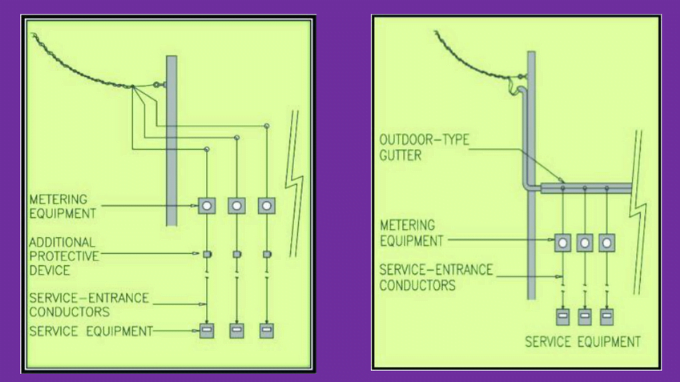 DISCONNECTING MEANS
DEFINITIONS
Accessible (as applied to equipment) – Admitting close approach; not guarded by locked doors, elevation, or other effective means.
Accessible, Readily (Readily Accessible) – Capable of being reached quickly for operation, renewal, or inspections without requiring those to whom ready access is requisite to climb over or remove obstacles or to resort to portable ladders, and so forth.
Disconnecting Means – A device, or group of devices, or other means by which the conductors of a circuit can be disconnected from their source of supply.
Service Equipment – The necessary equipment, usually consisting of a circuit breaker(s) or switch(es) and fuse(s) and their accessories, connected to the load end of service conductors to a building or other structure, or an otherwise designated area, and intended to constitute the main control and cutoff of the supply. This shall be located inside or outside wall of the building served or to the nearest point of entry of a non-building structure served.
PURPOSE OF DISCONNECTING MEANS
Its primary function is to shut off power to a building or occupant unit in case of emergency situations – caused by fires, earthquakes, or other calamities – to allow emergency personnel to work in an environment free from the dangers of electrocution or ignition of flammable materials, vapors and liquids.
LOCATION OF DISCONNECTING MEANS 
Where it is readily accessible
At the outside wall of the building or inside nearest the point where the service-entrance conductors enter the building.
(Note: Although the Code does not define the term "nearest", it is taken to be in the immediate vicinity of where the service-entrance conductors enter the building.) 
MAXIMUM 6 DISCONNECTING MEANS
The general rule is a maximum of six (6) service disconnecting means can be installed in one location – without the need of a main service disconnecting means ahead of these.
If there are more than six (6) service disconnecting means grouped in one location, a main service disconnecting means shall be installed ahead of the multiple service disconnecting means.
ADDITIONAL PROTECTIVE DEVICE
Service-entrance conductors are not protected at the point of tap to the utility company's supply or service point. The load end of these conductors terminates at the service equipment. While the likelihood of overloading the service-entrance conductors is highly unlikely, the possibility of short circuit faults is real specially for long runs of overhead portions and unprotected underground service-entrance conductors.
Evaluating the risks (including long term risks) and their impact on service interruptions, the decision (after consultations with the AHJ and utility company) can be made by the electrical practitioner whether an additional protective device – as stated in PEC1 2009 Sections 2.30.6.13(4) and 2.30.6.13(10) – is advisable or not. This additional protective device is installed immediately after the metering equipment.
OVERCURRENT PROTECTION
Overcurrent Protection is the second component of service equipment – disconnecting means being the first. As mentioned earlier in the chapter on Disconnecting Means, its function is to afford some measure of overcurrent protection for all ungrounded service-entrance conductors.
GROUNDING AND BONDING
GROUNDED SYSTEM CONDUCTOR CONNECTED TO GROUNDING ELECTRODE CONDUCTOR
Where a premises wiring system is supplied by a grounded alternating-current service, a grounding electrode conductor shall be provided and connected to the grounded service conductor at the supply side of the service disconnecting means.
The reasons for connecting the grounded conductor to the grounding electrode conductor are to (1) limit the voltage to ground due to lightning, switching surges and accidental high voltage crossovers, and (2) stabilize the voltage from line to ground during normal electrical system operation.
GROUNDING AND BONDING (AT THE SERVICE EQUIPMENT)
GROUNDED SYSTEM CONDUCTOR, EQUIPMENT GROUNDING CONDUCTOR AND GROUNDING ELECTRODE CONDUCTOR – ALL INTERCONNECTED AND BONDED TO SERVICE EQUIPMENT ENCLOSURE BY MEANS OF A MAIN BONDING JUMPER.
THE GROUNDING ELECTRODE CONDUCTOR IS THEN CONNECTED TO THE GROUNDING ELECTRODE.
HIGH-RISE BUILDING INSTALLATIONS
DEFINITION
A high-rise building, in this book's discussions, is a multistory structure with multiple occupancies where the Code requirements on services to occupants cannot be satisfied due to location constraints of electrical rooms and occupant units layout.
(Note: Occupants of lower height buildings (low-rise) of two to four stories can still be served by service-entrance conductors and service equipment that meet the Code's requirements for services. It is for this reason this book treats high-rise buildings separately from the discussions in the previous chapters.
TREATMENT OF WIRING TO OCCUPANT'S UNIT
The basic difference between unit occupants in high rise and low-rise multiple-occupancy buildings is that a high-rise building's occupants cannot have service-entrances run to the individual occupant units while a properly planned low-rise building can.
The service-entrance conductors is between the service point and the service equipment to the high rise building. All wiring after the service equipment are treated and designed as feeders, including the wiring to the individual occupant's unit.
For pdf file you can download it here: Guide for the Design and Installation of Services.
Source: iiee.org.ph
Disclaimer: This is not an official copy of the Guide for the Design and Installation of Services. This is for informational and educational purposes only. Use of the information and instructions contained in this site at your own risk. No infringement intended if we do please message us to remove the said post. Contact Us.
Read the site Disclaimer here: Disclaimer