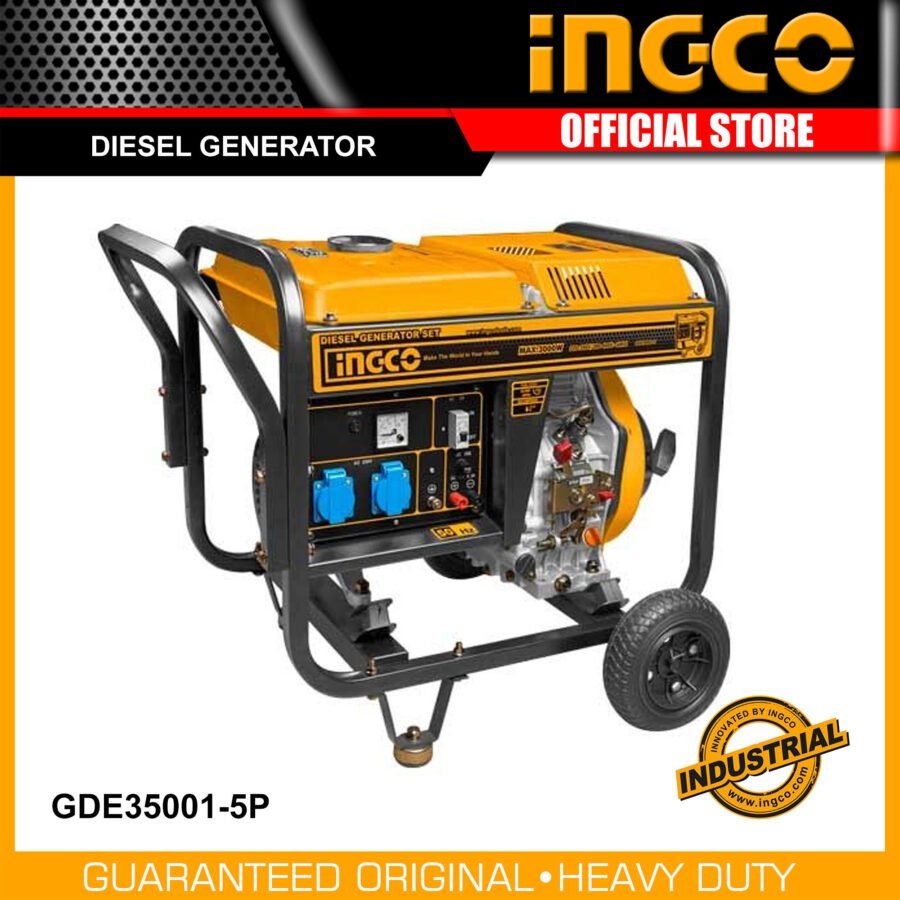 Ingco GDE35001-5P 3.5KVA Diesel Generator IPT
Model no: GDE35001-5P
Specifications:
Rated Voltage (V): 220-240
Rated Frequency (Hz): 60
Max Output (kW): 3.5
Phase: Single
Rated Output (kW): 3.2
Engine: Diesel 5.7HP
Rated Speed (rpm): 3600
Alternator: Copper Coil
Displacement (ml): 296
Fuel Tank (L): 15
Cooling System: Air-cooled
Dry Weight (Kg): 67
Starting System: Recoil
Outstanding Features:
Reliable Power Source: With a robust 5.7HP diesel engine, this generator delivers a consistent power output of 3.5kW, ensuring your appliances and equipment operate smoothly.
Easy Starting: The recoil starting system makes it effortless to start the generator, even in challenging conditions.
Durable Build: Built to withstand tough industrial environments, the Ingco generator is made from high-quality materials and designed to last.
Fuel Efficiency: The 15-liter fuel tank provides extended runtimes, reducing the need for frequent refueling.
Cool and Quiet Operation: The air-cooled system ensures the generator remains at an optimal temperature while keeping noise levels to a minimum.
Portability: Equipped with an auxiliary handle and wheels, moving the generator to your desired location is a breeze.
Safety First: The three-hole anti-falling socket and plug ensure safe connections and prevent accidents.
Warranty: Your purchase includes a Warranty Card with a generous 6 months parts and service warranty, providing peace of mind.
Whether you need a reliable backup power source for your business or want to ensure your home stays powered during emergencies, the Ingco 3.5KVA Industrial Diesel Generator is the perfect choice. Don't let power disruptions disrupt your life; invest in Ingco today!
Experience uninterrupted power with the Ingco 3.5KVA Industrial Diesel Generator. Order yours now!
Order Now!