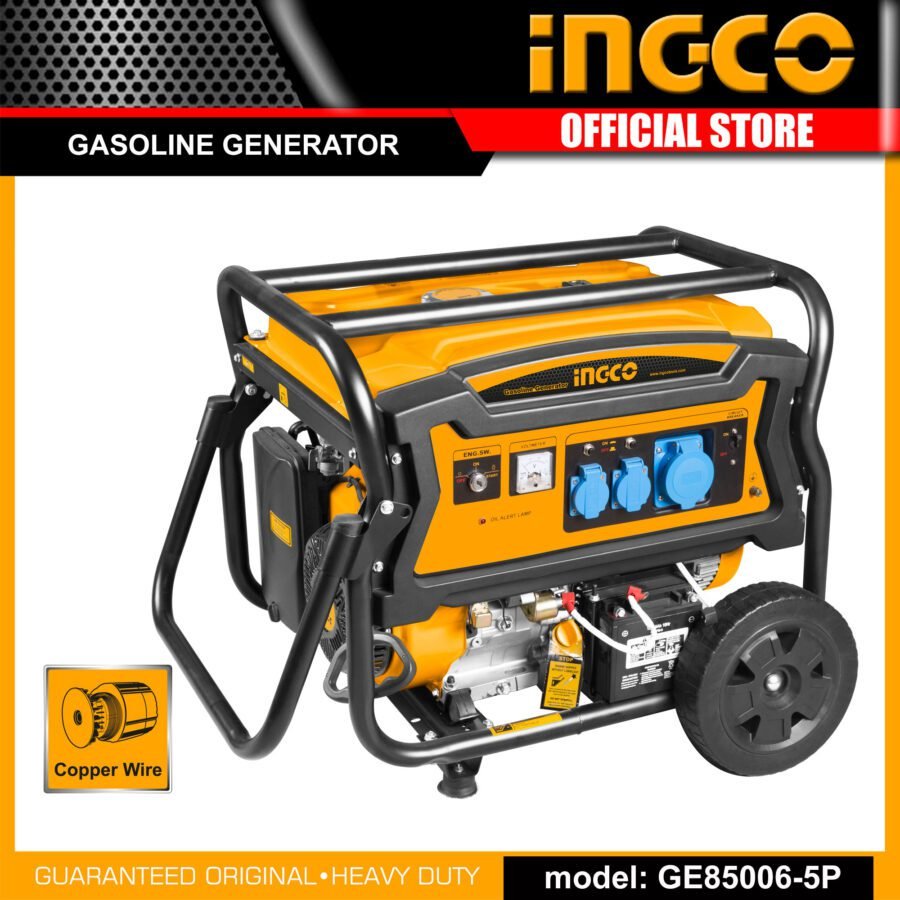 Ingco GE85006-5P 8.5KVA Gasoline Generator 25L IPT
Model no : GE85006-5P
Specifications:
Rated voltage(V): 220-240
Rated frequency(Hz): 60
Maximum output(kW): 8.5
Rated speed(rpm): 3600
Engine: 4 stroke, OHV
Displacement(ml): 420
Fuel tank (L): 25
Cooling system: Air-cooled
Dry weight(Kg):88
Ignition system :T.C.I
Rated output(kW):7.0
Starting system: Recoil + Electric
Copper wire alternator
With 1 set auxiliary handle and wheels
Three hole anti falling socket and plug
Warranty: 6months parts & service warranty
Key Features:
Unparalleled Power: With a maximum output of 8.5kW, this generator ensures that your appliances and equipment run seamlessly, even during peak load situations. Say goodbye to interruptions and downtime.
Built to Last: The Ingco GE85006-5P is powered by a robust 4-stroke, OHV engine with a displacement of 420 ml. Its tough construction and air-cooled cooling system guarantee long-lasting performance, making it the perfect choice for both residential and commercial applications.
Fuel Efficiency: Equipped with a generous 25-liter fuel tank, this generator can keep your essential devices powered for extended periods. No more frequent refueling interruptions, so you can focus on what matters.
Easy Start: The Ingco GE85006-5P offers two convenient starting options: recoil and electric start. Whether you prefer the traditional pull-start method or the ease of the electric start, this generator has you covered.
Sturdy and Portable: Weighing in at 88 kg and featuring an auxiliary handle and wheels, this generator is easy to transport and maneuver, ensuring that you can take it wherever power is needed. Its three-hole anti-falling socket and plug provide added safety and convenience.
Copper Wire Alternator: The generator's copper wire alternator guarantees stable power output and reduced energy wastage, making it an energy-efficient and eco-friendly choice.
Peace of Mind: We stand by the quality and durability of the Ingco GE85006-5P, which is why it comes with a 6-month parts and service warranty. You can rely on our expert customer support team to assist you with any concerns.
The Ingco GE85006-5P 8.5KVA Gasoline Generator is your go-to solution for all your power needs. Whether you're facing an unexpected blackout, working at a remote job site, or hosting an outdoor event, this generator ensures that your power supply remains uninterrupted and reliable.
Don't let power outages or lack of electricity hold you back. Invest in the Ingco GE85006-5P Gasoline Generator today and experience the convenience, power, and peace of mind that comes with owning a high-quality generator. Order yours now and enjoy continuous power wherever you go!
Order Now!