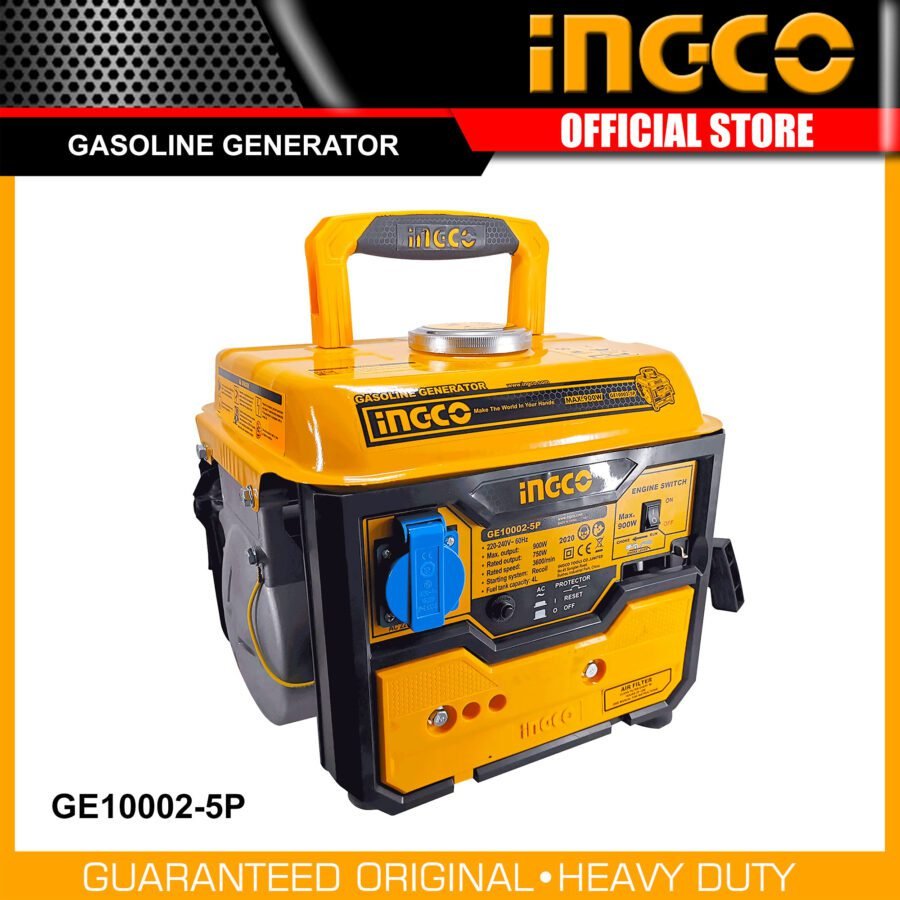 INGCO 900W Portable Gasoline Generator 1KVA 2 Stroke Engine Open Type Recoil IPT

Model no: GE10002-5P
SPECIFICATIONS:
Rated voltage (V): 220-240
Rated frequency (Hz): 60
Maximum output (kW): 0.9
Rated output (kW): 0.75
Rated speed (rpm): 3600
Engine: 2 stroke
Displacement (ml): 63
Cooling system: Air-cooled
Starting system: Recoil
Aluminum wire alternator
Fuel tank (L): 4.0
Dry weight (Kg): 16.5
Three hole anti falling socket and plug
with warranty card included
Introducing the INGCO 900W Portable Gasoline Generator – Your Reliable Power Companion!
Are you tired of sudden power outages disrupting your daily life or outdoor adventures? Look no further than the INGCO 900W Portable Gasoline Generator! This powerful and dependable generator is designed to provide you with the electricity you need, wherever and whenever you need it.
Key Features:
1. Robust 2-Stroke Engine: The heart of this generator is its efficient 2-stroke engine, delivering 1KVA of power with remarkable reliability. Whether you're at a remote campsite, working on a DIY project, or facing an emergency, this engine is up to the task.
2. Portable and Compact: With its open-type design, the INGCO generator is both lightweight and compact, making it incredibly easy to transport. Take it on camping trips, use it on job sites, or simply keep it on hand for home backup power.
3. Recoil Start: Starting your generator is a breeze with the easy-to-use recoil start mechanism. You'll have power at your fingertips in seconds, without any hassle.
4. Efficient and Versatile: This generator is designed to be fuel-efficient, allowing you to get more power for longer periods without frequent refueling. It can power essential appliances, tools, and electronics, making it versatile for a wide range of applications.
5. Safe and Reliable: The INGCO generator is built with your safety in mind. It features advanced safety mechanisms to protect against overloads and voltage fluctuations, ensuring your devices are always safe when connected.
6. Durable Construction: Crafted from high-quality materials, this generator is built to withstand the rigors of outdoor use. It's a reliable companion in challenging environments.
7. Trusted Brand: INGCO is a well-known brand with a reputation for delivering high-quality, durable products. When you choose INGCO, you're choosing a brand that stands behind its products.
8. Peace of Mind: In times of need, having a reliable source of power can make all the difference. With the INGCO 900W Portable Gasoline Generator, you can have peace of mind knowing you're prepared for any power-related situation.
Don't let power interruptions disrupt your life or work. Invest in the INGCO 900W Portable Gasoline Generator and enjoy the convenience of on-demand electricity wherever you are. Whether it's for outdoor adventures, remote job sites, or emergency backup power, this generator is your trusted solution. Say goodbye to power woes and hello to uninterrupted convenience with INGCO!
Order Now!