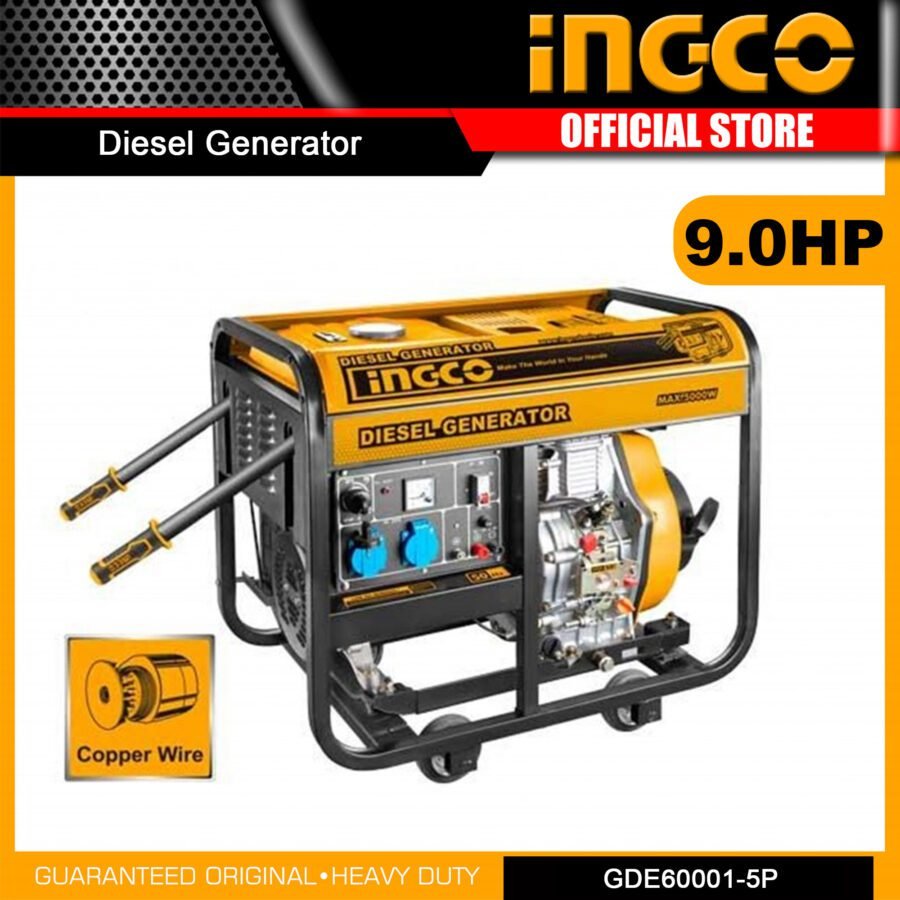 INGCO Diesel Generator 15L 6000W 6KVA GDE60001-5P IPT
Specifications:
Rated Voltage: 220-240V
Rated Frequency: 60Hz
Max. Output: 6.0
Rated Output : 5.5
Rated Speed: 3600RPM
Phase: Single Engine: Diesel 9.0HP
Displacement: 418ml
Cooling System: Air Cooled Stating System : Recoil
Electric Fuel Tank: 15L
Weight: 102kg
Introducing the INGCO Diesel Generator 15L 6000W 6KVA GDE60001-5P IPT – Your Reliable Power Solution!
Are you tired of sudden power outages disrupting your work or leisure time? Look no further! The INGCO Diesel Generator GDE60001-5P IPT is here to provide you with a consistent and dependable power source, ensuring your activities can continue without interruption.
Key Features:
Exceptional Power Output: With a maximum output of 6000 watts (6KVA) and a rated output of 5500 watts, this diesel generator is more than capable of handling your power needs, whether it's for home backup during outages or powering tools and appliances on the job site.
Sturdy and Durable: Built to withstand the toughest conditions, the INGCO Diesel Generator is constructed with quality materials and components, making it reliable for years to come. It boasts a robust 9.0HP diesel engine with a displacement of 418ml, ensuring it can tackle even the most demanding tasks with ease.
Dependable Performance: Operating at 3600 RPM, this generator delivers a consistent and stable power supply at a rated voltage of 220-240V and a rated frequency of 60Hz. Whether you need it for your workshop, construction site, or home, this generator won't let you down.
Efficient Cooling: The air-cooled cooling system prevents overheating, ensuring optimal performance even in extended usage scenarios. This generator can handle the heat, so you don't have to worry about downtime due to overheating.
Easy Starting: The recoil starting system makes firing up this generator a breeze. You won't need to struggle with complicated procedures or worry about unreliable starts – it's ready when you are.
Generous Fuel Tank: Equipped with a sizable 15-liter fuel tank, you can enjoy extended runtimes without frequent refueling interruptions. This feature is particularly valuable during extended power outages or long work sessions.
Portable Design: Despite its power, the INGCO Diesel Generator is designed with portability in mind. It comes with sturdy handles and wheels for easy maneuverability, allowing you to take it wherever power is needed.
Reliable Weight: Weighing in at 102kg, this generator strikes the perfect balance between stability and mobility. It's robust enough to stay put when in use but light enough to transport without hassle.
Don't let power interruptions disrupt your life or work. Invest in the INGCO Diesel Generator 15L 6000W 6KVA GDE60001-5P IPT, and enjoy uninterrupted power, superior performance, and the peace of mind that comes with a reliable power source. Whether it's for your home, job site, or other power needs, this generator is your ultimate solution.
Don't wait; get the INGCO Diesel Generator today and experience the difference in power reliability and performance!
Order Now!