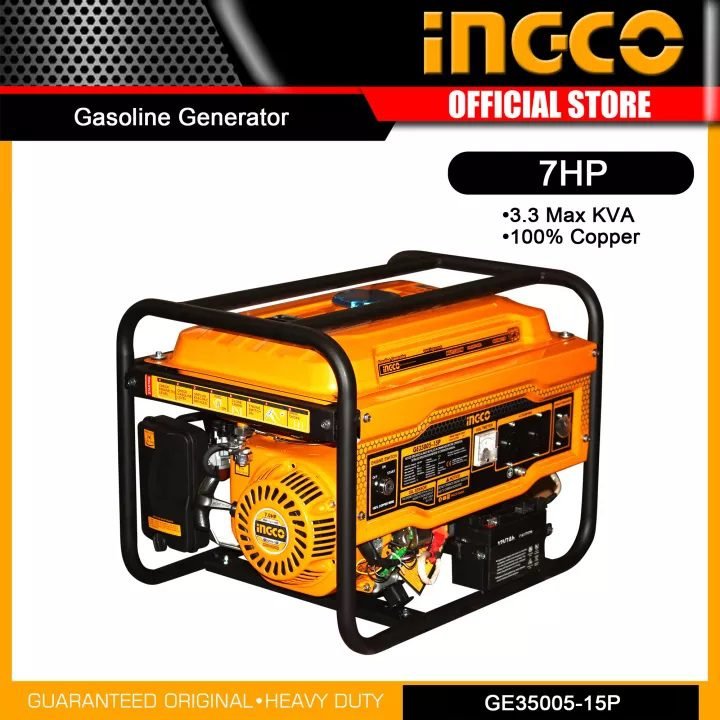 INGCO GE35005-15P Gasoline Generator 3.5KVA (ELECTRIC START) IPT
Model No: GE35005-15P
Specifications:
Rated Voltage: 220-240V
Rated Frequency: 60Hz
Max Output: 3.5KVA (3.5 kilovolt-amps)
Rated Output: 2.8KVA (2.8 kilovolt-amps)
Rated Speed RPM: 3600
Engine: 4-stroke OHV (Overhead Valve) for optimal efficiency and durability
Displacement: 210 ml
Cooling System: Air-cooled, ensuring reliable operation even in challenging conditions
Ignition System: TCI (Transistor Controlled Ignition) for quick and efficient starts
Starting System: Recoil+Electric, making it easy to start the generator with minimal effort
Copper Wire Alternator: Ensures efficient power generation and distribution
Fuel Tank Capacity: 15L, providing extended run times
Dry Weight: 42 Kg, designed for portability without compromising on stability
Packaging: Packed securely in a carton box for safe transportation and storage
Three Hole Anti-Falling Socket and Plug: Ensures safety and prevents accidental disconnections
Key Features:
Reliable Power Supply: With a rated output of 2.8KVA, this generator can power essential appliances, tools, and equipment during power outages or off-grid situations.
Electric Start: The electric start feature eliminates the hassle of manual starting. Simply push a button, and the generator springs to life.
Durable Construction: Built with quality materials and a rugged design, this generator can withstand the rigors of outdoor use and demanding job sites.
Fuel Efficiency: The 15L fuel tank provides extended run times, meaning fewer interruptions to refuel during critical operations.
Portability: Weighing just 42 Kg and featuring a compact design, this generator is easy to transport and maneuver wherever power is needed.
Safety First: The three-hole anti-falling socket and plug enhance safety by preventing accidental disconnections and ensuring a stable power supply.
Whether you're a homeowner seeking backup power or a contractor needing reliable electricity on the go, the Ingco Gasoline Generator 3.5KVA is the solution you can trust. Don't be left in the dark – power up your life with Ingco!
Order Now!