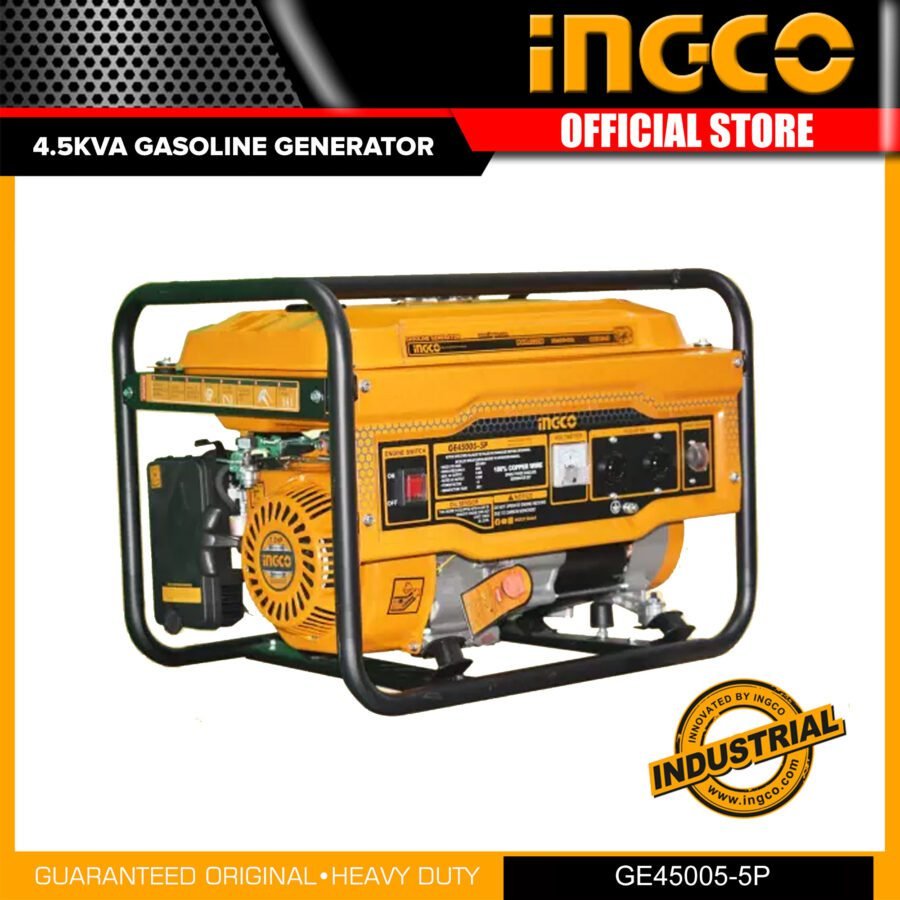 INGCO Gasoline Generator 4.5KVA 7.5HP GE45005-5P 100% Pure Copper • IPT
Model no: GE45005-5P
Specfications:
Rated Voltage(V): 220-240
Rated Frequency(Hz): 60
Phase: Single
Max.AC Output(KVA): 4.5
Rated AC Output(KVA): 4.0
Max.AC Current(A): 19.5
Rated AC Current(A): 17.4
Voltage Regulation: AVR
Engine Max. Output(HP): 7.5
Displacement(ml): 232
Cooling System: Air-cooled
Starting: Recoil
Fuel Tank Capacity: 15L
Continuous Operation Hours: 10
G/N Weight: 43/42.5kg
Copper Wire Alternator
Three hole anti falling socket and plug
Unit Dimension: 60(L) x 43(W) x 45(H)cm
WITH MANUAL AND WARRANTY CARD INCLUDED
Key Features:
Robust Power Output: With a Max.AC Output of 4.5KVA and a Rated AC Output of 4.0KVA, this generator provides ample power to run your devices and equipment smoothly.
Stable Voltage Regulation: Equipped with Automatic Voltage Regulation (AVR), this generator ensures a stable and reliable power supply, safeguarding your sensitive electronics from voltage fluctuations.
Reliable 7.5HP Engine: The 7.5HP engine packs a punch, providing you with the necessary power to handle your tasks efficiently.
Efficient Cooling System: The air-cooled system ensures that the generator operates at an optimal temperature even during extended usage, enhancing its longevity.
Easy Starting: The recoil starting mechanism makes it effortless to start the generator, even in challenging conditions.
Generous Fuel Tank: The 15-liter fuel tank capacity guarantees extended operation hours, allowing you to power your devices for up to 10 hours continuously without interruption.
Solid Construction: Weighing 43kg (Gross Weight) and 42.5kg (Net Weight), this generator is both sturdy and portable, making it suitable for various applications.
Pure Copper Wire Alternator: The generator features a copper wire alternator, which is known for its durability and efficiency in generating electricity.
Safety First: The three-hole anti-falling socket and plug enhance safety, preventing accidental falls or disconnects.
Compact Design: Measuring 60cm in length, 43cm in width, and 45cm in height, this generator boasts a compact design that saves space and is easy to transport.
Complete Package: This INGCO generator comes with a manual and warranty card included, providing you with peace of mind and guidance in operating and maintaining your generator.
Whether you need a reliable backup power source for your home during outages, a power supply for your construction site, or a source of electricity for your outdoor adventures, the INGCO Gasoline Generator 4.5KVA 7.5HP GE45005-5P is designed to meet your needs. Invest in this powerful generator today and never worry about power interruptions again. Trust INGCO for quality, reliability, and performance.
Order Now!