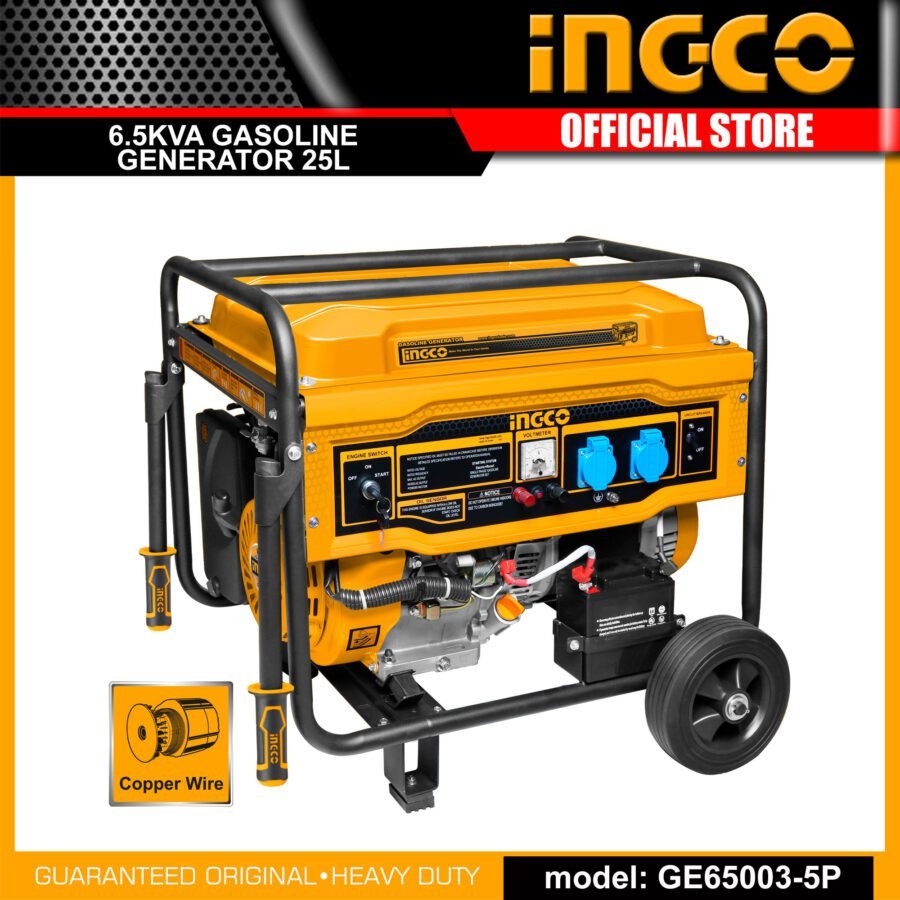 INGCO GE65003-5P Industrial Gasoline Generator 6.5KVA 25L IPT
Model no: GE65003-5P
Specifications:
Rated Voltage: 220-240V
Rated Frequency: 60Hz
Maximum Output: 6.5kW
Rated Output: 5.5kW
Rated Speed: 3600rpm
Engine: 4 stroke, OHV
Displacement: 389ml
Fuel Tank: 25L
Dry weight: 77kg
FEATURES:
Cooling System: Air-cooled
Ignition System: T.C.I
Copper wire alternator
Starting System: Recoil + Electric
INCLUSIONS:
With 1 set auxiliary handle and wheels
Three hole anti falling socket and plug
Warranty: 6 months parts & service warranty
Experience the ultimate in power generation with the INGCO GE65003-5P Industrial Gasoline Generator. Engineered for performance and durability, this powerhouse is designed to meet all your energy needs, whether you're on a job site or need a reliable backup power source.
Powerful Performance:
Maximum Output: With a robust 6.5kW of power, this generator can handle even your most demanding electrical needs.
Steady Output: Rated at 5.5kW, you can trust it to provide a consistent and stable power supply for your equipment.
Built for Endurance:
4-Stroke, OHV Engine: The INGCO GE65003-5P features a high-performance 4-stroke, overhead valve (OHV) engine with a displacement of 389ml, ensuring longevity and efficiency.
Large Fuel Tank: Equipped with a generous 25L fuel tank, you can count on hours of uninterrupted operation before needing to refuel.
Air-Cooled: The air-cooled system prevents overheating, extending the life of your generator.
User-Friendly Design:
Multiple Starting Options: Start it effortlessly with the recoil or electric start system – choose the method that suits you best.
Copper Wire Alternator: Enjoy reliable power generation thanks to the copper wire alternator that ensures efficient energy transfer.
Easy to Transport: The included auxiliary handle and wheels make moving this 77kg generator a breeze.
Safety Features: The three-hole anti-falling socket and plug provide added safety and protection.
Warranty You Can Trust:
Peace of Mind: We stand by the quality of our product with a 6-month parts and service warranty. Buy with confidence knowing we've got you covered.
When you need a dependable source of power, the INGCO GE65003-5P Industrial Gasoline Generator is the solution you can rely on. Whether you're at a construction site, running essential appliances during a power outage, or tackling DIY projects, this generator has the power and features to meet your needs. Don't settle for less when it comes to power generation – choose the INGCO GE65003-5P and experience the difference in performance and reliability.
Order Now!