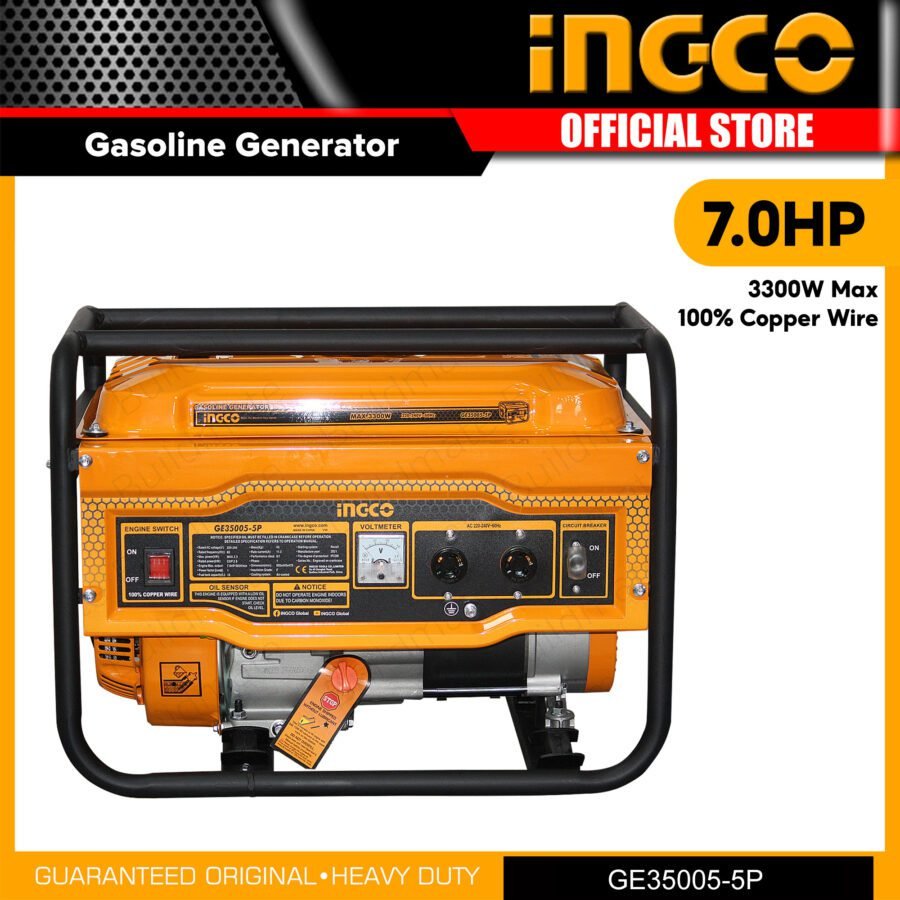 Ingco GE35005-5P Industrial Gasoline Generator 3.5KVA 4-STOKE ENGINE 100% Copper Wire IPT
Model: GE35005-5P
Specifications:
Powerful Performance:
Max. Output: 3.3kW
Rated Output: 2.8kW
Rated Voltage: 220-240V
Rated Frequency: 60Hz
Rated Speed: 3600rpm
Reliable 4-Stroke Engine:
The Ingco GE35005-5P is equipped with a durable 4-stroke OHV engine, ensuring efficient and dependable power generation.
Engine Displacement: 210ml
Cooling System: Air-cooled
Ignition System: T.C.I
Extended Run Time:
With a generous 15-liter fuel tank capacity, this generator keeps your essential appliances running for extended periods without frequent refueling.
Easy Starting:
The recoil starting system makes it effortless to start the generator, ensuring a hassle-free power supply.
Solid Construction:
Weighing in at 42kg, this generator is built to withstand the demands of industrial use and harsh environments.
The copper wire alternator ensures efficient power transmission and enhances the overall longevity of the generator.
Convenient Features:
Equipped with a three-hole anti-falling socket and plug, the Ingco generator offers versatility and compatibility with a wide range of devices.
Each unit comes complete with a user manual and warranty card, providing you with all the necessary information for seamless operation and peace of mind.
Whether you're running power tools at a construction site, ensuring your home remains comfortable during blackouts, or simply need a reliable backup power source, the Ingco Industrial Gasoline Generator 3.5KVA is your go-to choice. Its unbeatable combination of power, durability, and user-friendly features makes it a must-have for anyone seeking reliable electricity generation. Invest in the Ingco GE35005-5P and never be left in the dark again.
Choose the Ingco Industrial Gasoline Generator 3.5KVA for unmatched performance and peace of mind. Order yours today and experience the power of reliability!
Order Now!