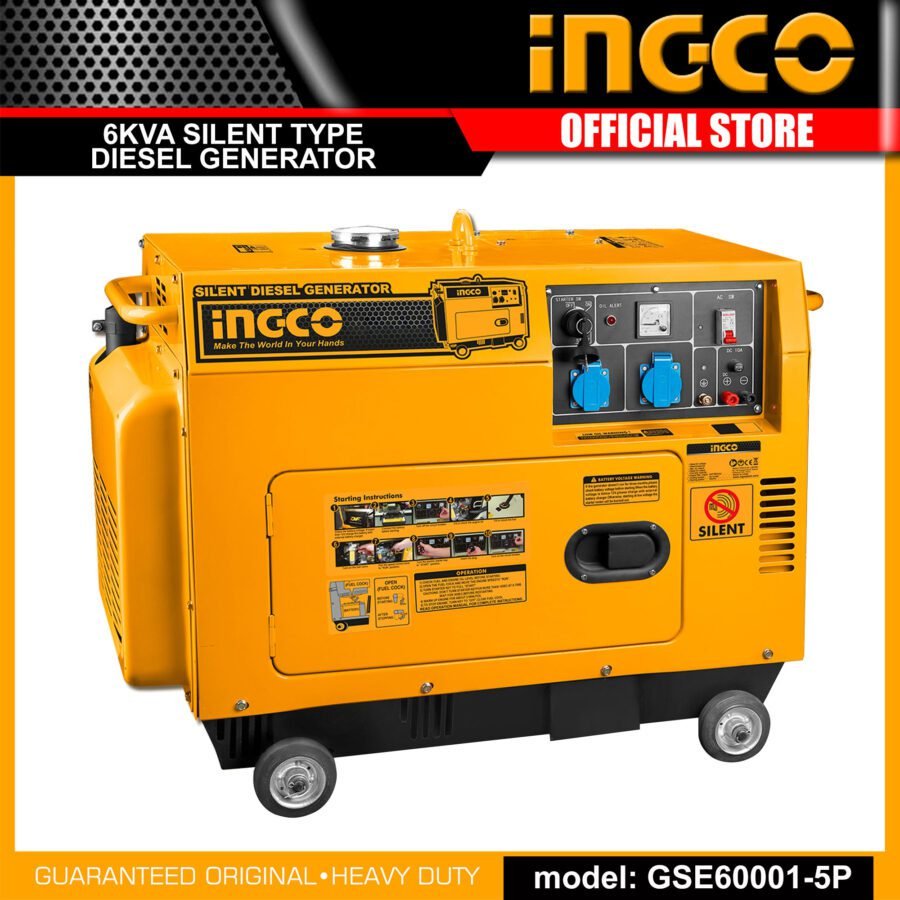 INGCO GSE60001-5P 9HP Silent Type Diesel Generator Set 6KVA IPT
Model no : GSE60001-5P
Specifications:
Rated Voltage: 220-240V
Rated Frequency: 60Hz
Phase: Single
Maximum Output: 6.0KW
Rated Output: 5.5KW
Rated Speed: 3600rpm
Fuel Tank Capacity: 17L
Engine: Diesel 9.0HP
Dry Weight: 172Kg
Displacement: 418ml
Cooling System: Air-cooled
Starting System: Electric
Alternator: Copper Coil
Battery: 30AH Maintenance-free
Type: Silent Diesel Generator
Warranty: 6 months parts & service warranty
Key Features:
Powerful Performance: The Ingco Diesel Generator boasts a maximum output of 6.0KW, making it more than capable of handling your essential appliances, tools, and machinery.
Reliable Diesel Engine: Equipped with a robust 9.0HP diesel engine, this generator provides exceptional fuel efficiency and long-lasting performance, ensuring you have power when you need it.
Silent Operation: Say goodbye to noisy generators! The silent type design ensures quiet operation, allowing you to work, relax, or sleep without the disruption of a loud generator.
Electric Start: Starting the generator is a breeze with the electric start system. No more struggling with manual pull-starts; simply push a button, and you're good to go.
Copper Coil Alternator: The high-quality copper coil alternator ensures stable and efficient power output, protecting your sensitive electronics and appliances from voltage fluctuations.
Large Fuel Tank: With a generous 17-liter fuel tank, you can enjoy extended runtimes without frequent refueling, making it ideal for prolonged power needs.
Low Maintenance: The included 30AH maintenance-free battery and robust construction minimize the need for frequent maintenance, allowing you to focus on what matters most.
Warranty: We stand behind the quality and durability of our product, offering a 6-month parts and service warranty for your peace of mind.
Order Now!