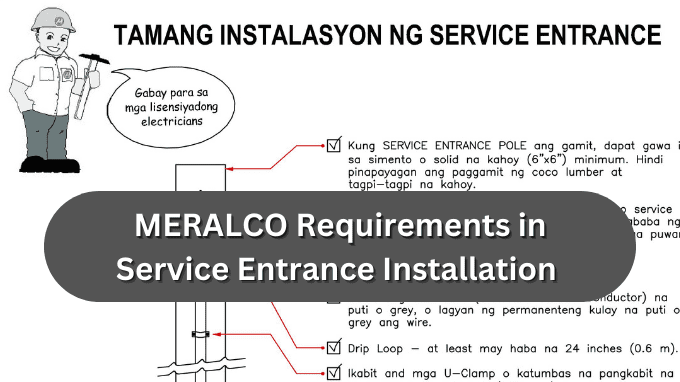 Gabay para sa mga Lisensiyadong Electricians.
Tamang Instalasyon ng Service Entrance:
Kung SERVICE ENTRANCE POLE ang gamit, dapat gawa ito sa simento o solid na kahoy (6%6″) minimum. Hindi pinapayagan ang paggamit ng coco lumber at tagpi-tagpi na kahoy.
Ikabit ang service drop attachment sa pader o service entrance pole. Lagyan ng clearance na nindi bababa ng 1 meter mula sa bintana, pintuan at iba pang mga puwang sa pader.
Ikabit ang Weather Head Cap.
Ikabit ang third wire (Grounded Service Conductor) na puti o grey. o lagyan ng permanenteng kulay na puti o grey ang wire.
Drip Loop – at least may haba no 24 inches (0.6 m).
Ikabit ang mga U-Clamp o katumbos na pangkabit na hindi hihigit sa 2.5 feet (760 mm) bawat pagitan.
Lineside Conduit: gumamit lamang ng RSC (bawal ang G.I., PVC, at iba pang plastic).
Ilapat ang Meter Base (hindi tabinge o baligtad ang pagkalagay nito).
Ikabit ang Loadside Conduit (RSC, PVC, o BX) sa meter base na gamit ang tamang fittings.
Required maglagay ng SERVICE EQUIPMENT (circuit breaker o safety switch) sa Service Entrance Pole kung ang layo ng protective device sa unit ng customer ay hihigit sa 50 feet (15 m).
Ikabit ang Grounded Service Conductor sa ground terminal/bus ng service equipment.
Mula sa ground terminal/bus, mogkabit ng Grounding Electrode Conductor papunta sa Ground Rod.
Ipasok ang Grounding Electrode Conductor sa loob ng RMC o PVC pipe.
Kabitan ng U-Clamp o katumbas na pangkabit.
Ikabit ang Grounding Electrode Conductor sa ground rod gamit ang ground clomp.
Ibaon sa lupa ang GROUND ROD na may bilog na 5/8″ diameter at haba na 8 feet (16 mm dia. X 2.4 m). Gumamit lamang ng hot dip, galvanized steel rod o copper coated.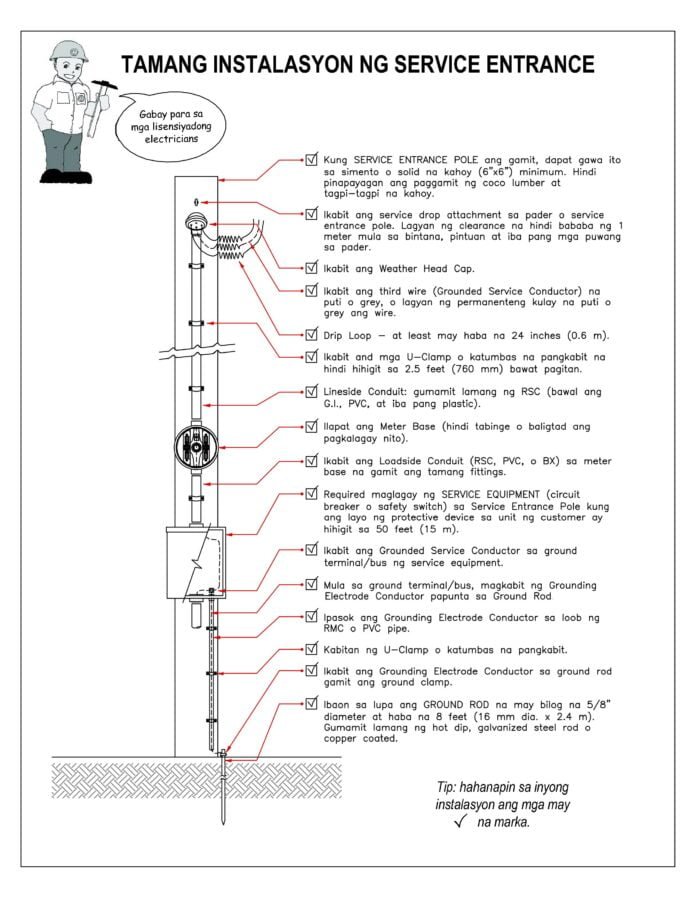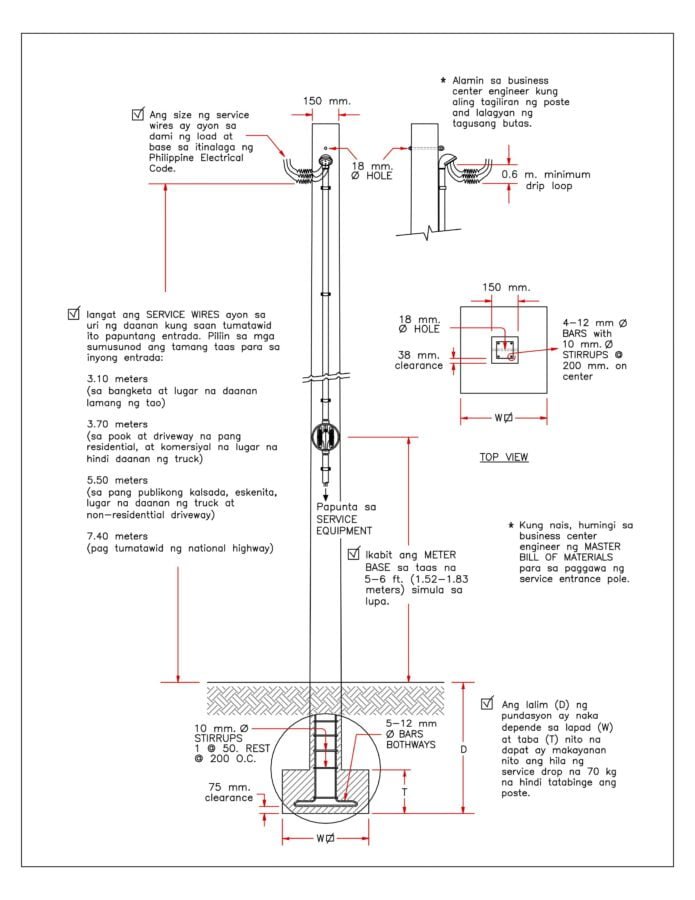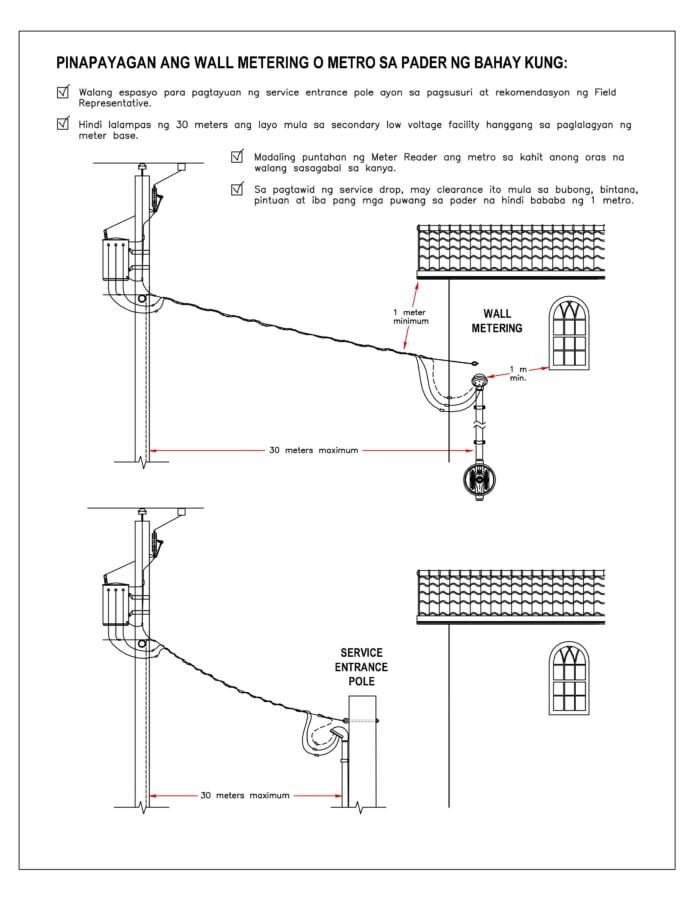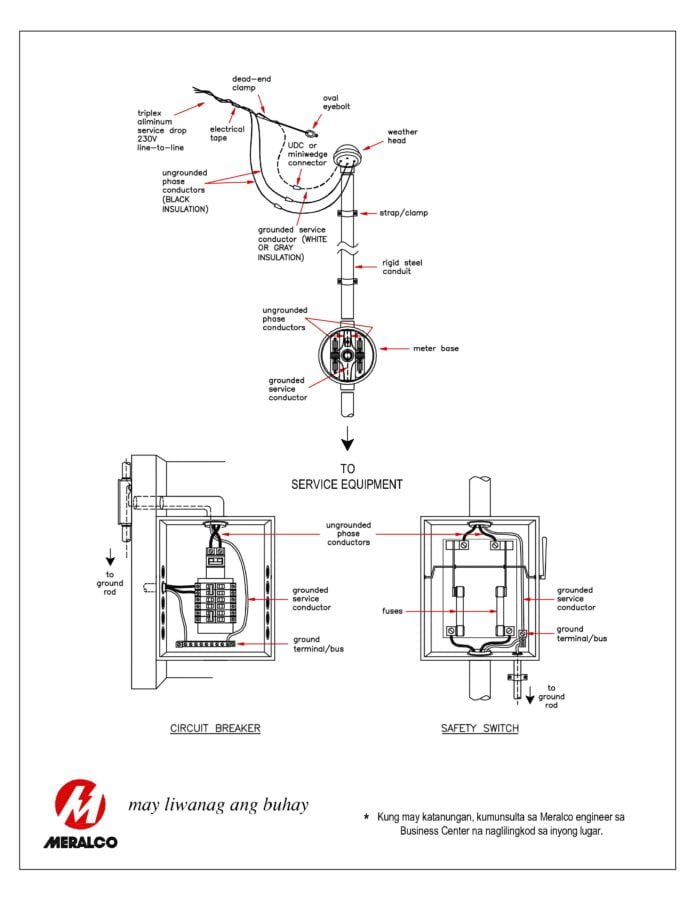 Electrical Safety in Service Entrance Installation
Ensuring electrical safety is important in any electrical installation, and this holds especially true for service entrance installations. Service entrance installations are where electrical power enters a building or facility, making them a critical point in the electrical system. In this article, we will explore the key aspects of electrical safety in service entrance installations.
Understanding the Service Entrance
Before we discuss safety measures, it's essential to grasp what a service entrance is. In simple terms, a service entrance is the point where electrical power from the utility company connects to a building's electrical system. This connection typically includes the electric meter and a service disconnect switch.
Safety Measures for Service Entrance Installation:
Proper Equipment: The very foundation of electrical safety is using approved and reliable electrical equipment. Ensure that all components, including the meter, service panel, and disconnect switch, are of high quality and meet safety standards.
Professional Installation: Service entrance installation should only be carried out by certified licensed electricians. They have the knowledge and expertise to install and connect the service entrance safely, preventing hazards.
Grounding: Proper grounding is crucial. Grounding provides a safe path for electrical faults to dissipate harmlessly into the earth. Without adequate grounding, electrical shocks and fires become a significant risk.
Clearance: Adequate clearance around the service entrance equipment should be maintained. This ensures that technicians can safely access and work on the equipment without any obstructions.
Weatherproofing: Since the service entrance is typically located outside, it must be adequately protected from the elements. Weatherproof enclosures and sealants are essential to prevent water damage and ensure longevity.
Regular Inspections: Periodic inspections of the service entrance installation are vital. This helps identify wear and tear, loose connections, or any issues that might compromise safety.
Overcurrent Protection: Overcurrent protective devices, like circuit breakers or fuses, should be appropriately sized and installed to prevent electrical overload and subsequent hazards.
Labeling: Proper labeling of the service entrance equipment and disconnect switch is essential. In case of an emergency, first responders or electricians should be able to identify and isolate the power source quickly.
Conclusion
Ensuring electrical safety in service entrance installations is not just a matter of compliance; it's about safeguarding lives and property. By using quality equipment, hiring professional electricians, and following safety protocols, you can significantly reduce the risks associated with service entrance installations. Periodic inspections and maintenance are key to long-term safety. Remember, safety should always be the priority in any electrical work, and this is especially true at the point where power enters your home or building.