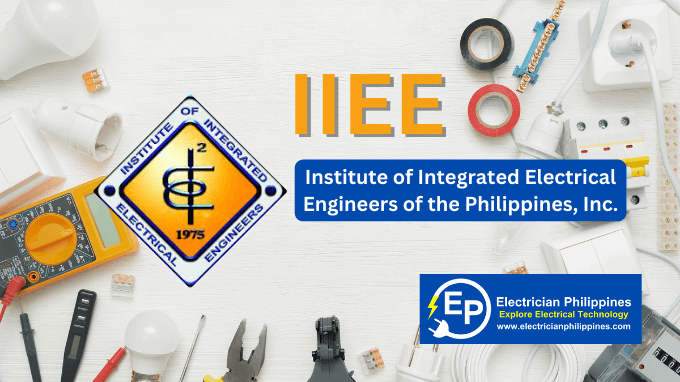 The Institute of Integrated Electrical Engineers of the Philippines, Inc. (IIEE) is the organization of electrical practitioners and the only accredited professional organization (APO) of electrical practitioners by the Professional Regulation Commission (PRC) with PRC Cert. No. I-APO-016. Founded in 1975, the organization, which started with 500 members, has now 47,000 members and more are joining. 
The Republic Act No.7920 or New Electrical Engineering requires Electrical Practitioners (Professional Electrical Engineers, Registered Electrical Engineers and Registered Master Electricians) to be a member of IIEE or other PRC accredited organization of electrical practitioners. IIEE being the only APO of electrical practitioners expects to more than double its membership by year 2008.
R.A.7920
ARTICLE III 
Section. 25. Integration of the Electrical Engineering Professions. – The electrical engineering professions shall be integrated into one national organization which shall be recognized by the Board as the one and only integrated and accredited association of professional electrical engineers, registered electrical engineers and registered master electricians. Every professional electrical engineer, registered electrical engineer and registered master electrician upon registration with the Board as such, shall ipso facto, become a member of the integrated national organization. Those who have been registered with the Board but are not members of the said organization at the time of the effectivity of this Act, shall be allowed to register as members of the said integrated organization within three (3) years after the effectivity of this Act. Membership in the integrated organization shall not be a bar to membership in the other associations of the electrical engineering profession.
The professional electrical engineer, registered electrical engineer, and registered master electrician shall receive the benefits and privileges appurtenant to this listed membership in the duty integrated and accredited electrical engineering association only upon payment of the required membership fees and dues.
Institute of Integrated Electrical Engineers of the Philippines, Inc. is committed to (1) upgrade the professional credentials of its members through the Continuing Professional Development (CPD) programs; (2) enhance their social standing through the promotion of high ideals of integrity and ethics; (3) facilitate advancement of technology transfer through carefully conceived educational and training programs; and (4) provide opportunity for regular interaction among electrical practitioners.
Institute of Integrated Electrical Engineers of the Philippines, Inc.
MISSION:
To enhance the competencies of electrical practitioners to make positive contribution towards new trends and technologies.
To be an authority of electrical engineering services that results to safe, reliable and efficient systems.
To consistently deliver high quality products and services duly recognized by international organizations and institutions.
To promote awareness the use of environmentally friendly electrical products, services and resources as well as active participation on disaster preparedness and recovery programs.
Vision: 
To be the leading electrical professional organization globally.
Source:iiee.org.ph