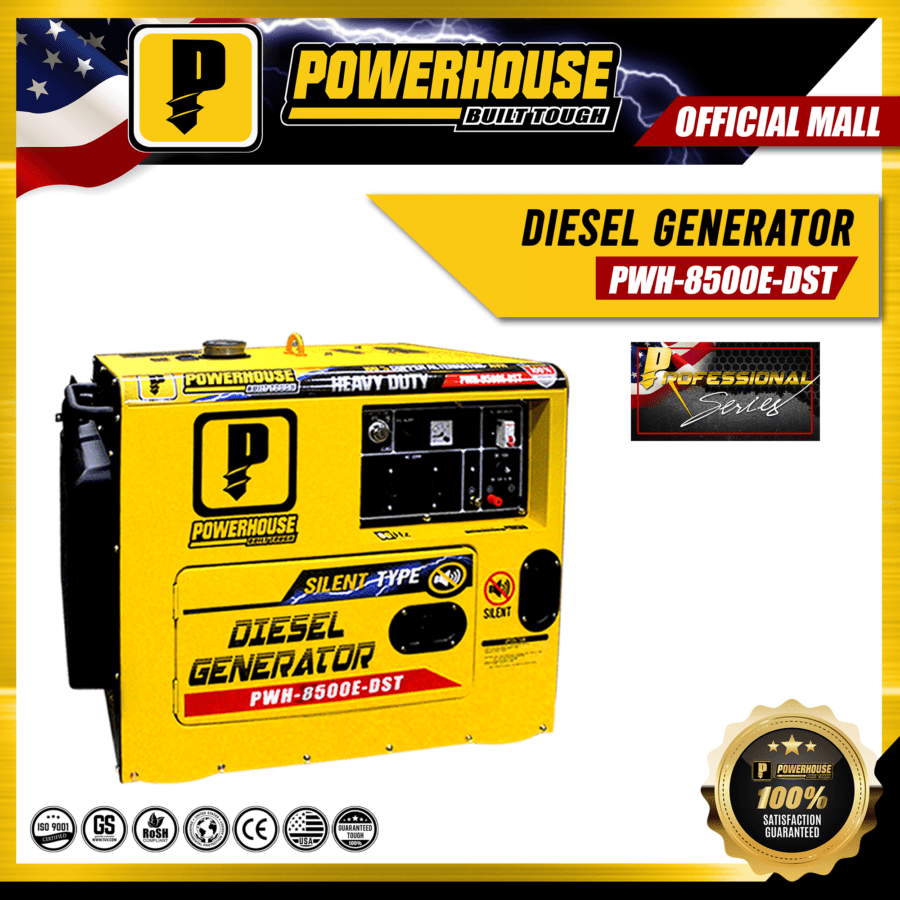 POWERHOUSE 6KVA Diesel Silent Type Generator with Battery For Electric Start Max Power 6KW 100% COPPER DBS PWH8500E-DST PHI
Specifications:
Voltage/Frequency: 220V~60Hz
Rated Power : 9500W
Prime/Surge Power: 6 Kva / 7.5 Kva
Engine Speed: 3600RPM
Noise Level: 75-79
Excitation Mode: 100 % Copper
Displacement Ratio (cos): 480
Power Factor: 1
Phase Number: Single Phase
Starting System: Electric Start
Engine Model: SH-195F
Engine Type: Diesel Engine, 4 Stroke, Air Cooled, Direct, Injection
Max Output Power: 16 HP
Rotation Direction: Clockwise
Dry Weight: 105 Kg
Introducing the POWERHOUSE 6KVA Diesel Silent Type Generator with Battery For Electric Start – Your Unrivaled Power Solution!
When it comes to dependable and robust power generation, the POWERHOUSE 6KVA Diesel Silent Type Generator stands as a beacon of excellence. Engineered to deliver unwavering performance, this generator is the epitome of reliability and power efficiency. Whether you need backup power for your home, office, or worksite, the POWERHOUSE 6KVA is the solution you've been searching for.
Key Features:
Max Power, Minimum Hassle: With a maximum power output of 6KW, the POWERHOUSE 6KVA Diesel Generator ensures that you have all the electricity you need, no matter the circumstances. Its 100% copper excitation mode guarantees smooth and stable power delivery, making it suitable for even your most sensitive electronic equipment.
Start with Ease: Say goodbye to manual cranking. The electric start system provides effortless ignition, so you can have power at your fingertips in seconds. No more struggling with pull cords or worrying about starting in adverse conditions.
Built for Durability: The robust 4-stroke, air-cooled, direct-injection diesel engine is designed to withstand the test of time. With an impressive 16 HP maximum output power, this generator is a workhorse that won't let you down.
Peace and Quiet: Despite its power, the POWERHOUSE 6KVA Diesel Generator won't disrupt your peace and quiet. With a noise level ranging from 75 to 79 decibels, it operates discreetly, ensuring minimal disturbance to your environment.
Efficiency Meets Safety: With a power factor of 1 and a single-phase configuration, this generator efficiently converts fuel into electricity while keeping your devices safe from power fluctuations.
Precision Engineering: The engine's rotation direction, clockwise, ensures optimal performance and longevity. Plus, with a dry weight of 105 kg, it's easily portable and suitable for a variety of applications.
Reliable and Ready: When the lights go out, be prepared with the POWERHOUSE 6KVA Diesel Silent Type Generator. Its 9500W rated power and 6 Kva/7.5 Kva prime/surge power make it a dependable backup power source for homes, businesses, and job sites.
Don't compromise on power when you need it most. Invest in the POWERHOUSE 6KVA Diesel Silent Type Generator with Battery For Electric Start and experience uninterrupted electricity at your command. Whether it's for emergencies, remote work, or recreational activities, this generator is your trusted companion in all power needs.
Choose POWERHOUSE – Where Power Meets Reliability!
Order Now!