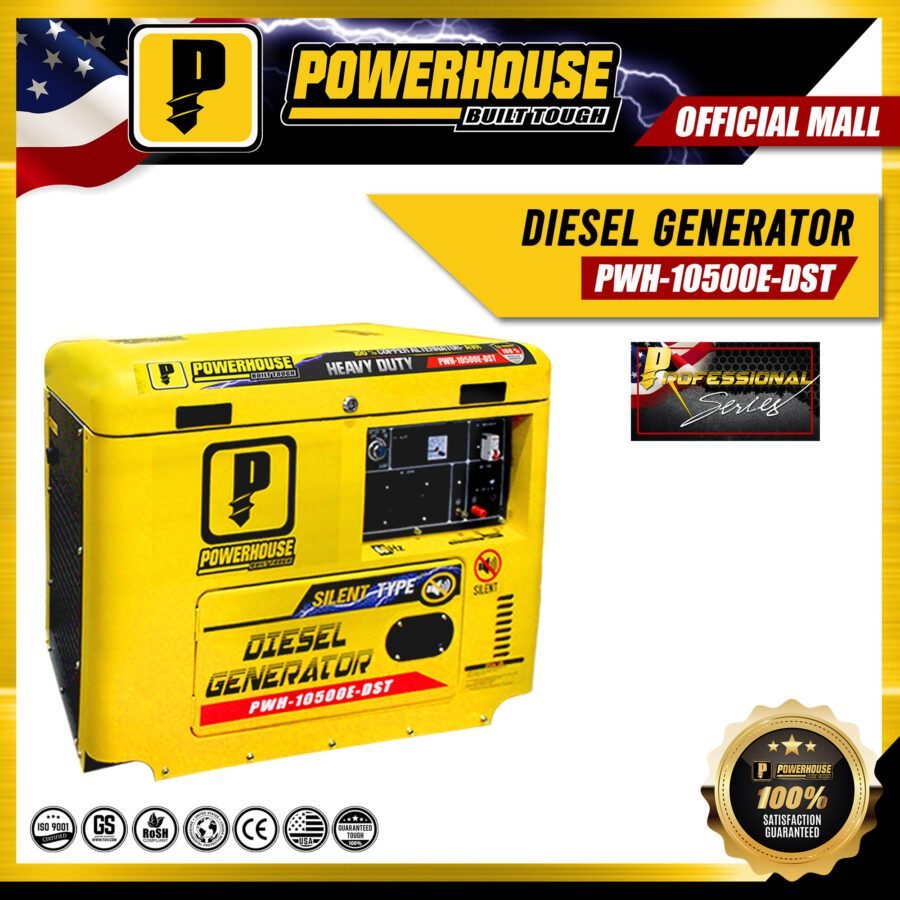 POWERHOUSE 6KVA Diesel Silent Type Generator with Battery For Electric Start Max Power 6KW 100% COPPER DBS PWH8500E-DST PHI
Specifications:
Voltage/Frequency: 220V~60Hz
Rated Power : 9500W
Prime/Surge Power: 6 Kva / 7.5 Kva
Engine Speed: 3600RPM
Noise Level: 75-79
Excitation Mode: 100 % Copper
Displacement Ratio (cos): 480
Power Factor: 1
Phase Number: Single Phase
Starting System: Electric Start
Engine Model: SH-195F
Engine Type: Diesel Engine, 4 Stroke, Air Cooled, Direct, Injection
Max Output Power: 16 HP
Rotation Direction: Clockwise
Dry Weight: 105 Kg
Key Features:
Unbeatable Performance: With a rated power of 9500W, the POWERHOUSE generator can handle a wide range of electrical loads, making it perfect for homes, offices, construction sites, and small businesses.
Robust Engine: Powered by a high-performance SH-195F diesel engine, this generator delivers a formidable 16 HP of raw power. The 4-stroke, air-cooled design ensures reliable operation even in harsh conditions.
Efficient Electric Start: Say goodbye to the hassle of manual starts. The electric start system allows you to fire up the generator with ease, ensuring a quick and hassle-free power source whenever you need it.
Minimal Noise: Thanks to its advanced engineering, the generator operates quietly with a noise level ranging from 75-79 decibels, ensuring that your peace and quiet remain undisturbed.
100% Copper Winding: The excitation mode of this generator features 100% copper winding, enhancing its durability and efficiency. Copper winding ensures better heat dissipation and longer-lasting performance.
High Power Factor: The generator boasts a power factor of 1, ensuring that you can power a wide range of appliances without worrying about electrical inefficiencies.
Compact and Portable: With a dry weight of 105 kg, this generator is surprisingly compact and easy to transport. Its sturdy construction and ergonomic design make it suitable for various applications.
Reliable Rotation: The clockwise rotation direction ensures compatibility with a wide range of equipment and tools.
Single Phase Power: This generator provides single-phase power, making it suitable for most residential and commercial applications.
Don't let power outages disrupt your life or work. Invest in the POWERHOUSE 6KVA Diesel Silent Type Generator with Battery For Electric Start, and enjoy peace of mind knowing that you have a dependable source of power when you need it most. Whether you're at home, in the office, or on the job site, this generator is your trusted companion in times of need. Make it yours today and experience the true meaning of uninterrupted power!
Order Now!