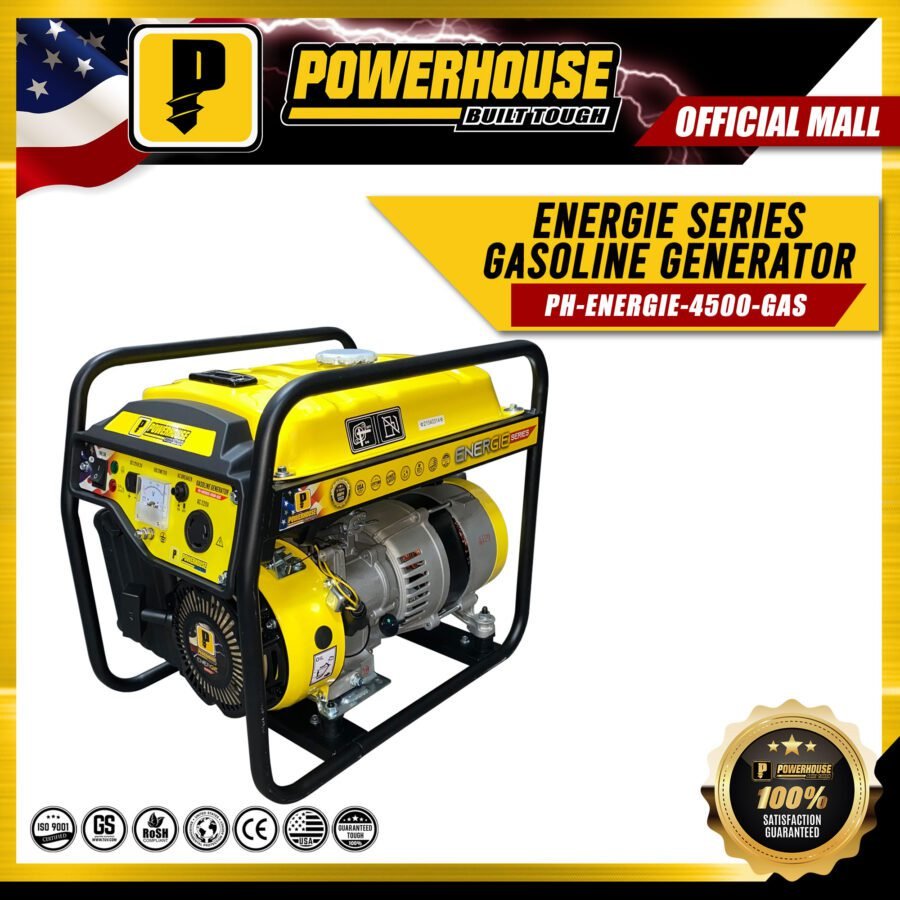 Powerhouse Energie Series Gasoline Generator Recoil Start Max Power 1.8 KW KVA PH-ENERGIE-4500-GAS
Specifications:
Rated Power: 1800W/1.8kW
Fuel Tank Capacity: 5.5L
Rated Voltage: 220/230V
Frequency: 60Hz
Rated Power Factor: 1.0
Net Weight: 31kg
Rated Current: 6.8A
Introducing the Powerhouse Energie Series Gasoline Generator with Recoil Start – Your Ultimate Power Solution!
Are you tired of unexpected power outages disrupting your life and work? Look no further than the Powerhouse Energie Series Gasoline Generator PH-ENERGIE-4500-GAS. This robust and reliable generator is designed to keep your essential appliances and tools running smoothly, no matter the circumstances.
Key Features:
Max Power of 1.8 KW (KVA): With a peak power output of 1.8 KW, the Powerhouse Energie Series generator ensures you have ample power to run your appliances, power tools, or even provide backup power to your home or business during emergencies.
Fuel Efficiency: The generator boasts a 5.5-liter fuel tank capacity, allowing for extended operation on a single tank of gasoline. Say goodbye to constant refueling interruptions and hello to uninterrupted power.
Steady Voltage and Frequency: The Powerhouse Energie Series maintains a stable output with a rated voltage of 220/230V and a frequency of 60Hz. This consistency ensures your sensitive electronics stay protected from voltage fluctuations.
Built-in Power Factor Correction: Featuring a rated power factor of 1.0, this generator maximizes its electrical efficiency, delivering more usable power for your devices while minimizing wasted energy.
Portable and Compact: Weighing just 31kg, this generator is designed with portability in mind. The ergonomic handle and compact size make it easy to transport to various locations, whether you're using it on a job site, at a campsite, or as a backup power source at home.
Reliable Recoil Start: The recoil start mechanism ensures that you can get your generator up and running quickly, even in remote locations without access to electricity. It's a hassle-free way to start your power source when you need it most.
Whether you're a professional contractor, an outdoor enthusiast, or simply need a reliable backup power source for your home or small business, the Powerhouse Energie Series Gasoline Generator PH-ENERGIE-4500-GAS has got you covered. Count on it to deliver consistent power, exceptional fuel efficiency, and the peace of mind you deserve during power emergencies.
Invest in the Powerhouse Energie Series Gasoline Generator today and experience the convenience and reliability of a powerful backup power solution. Don't let power disruptions disrupt your life – power up with Powerhouse!
Order Now!