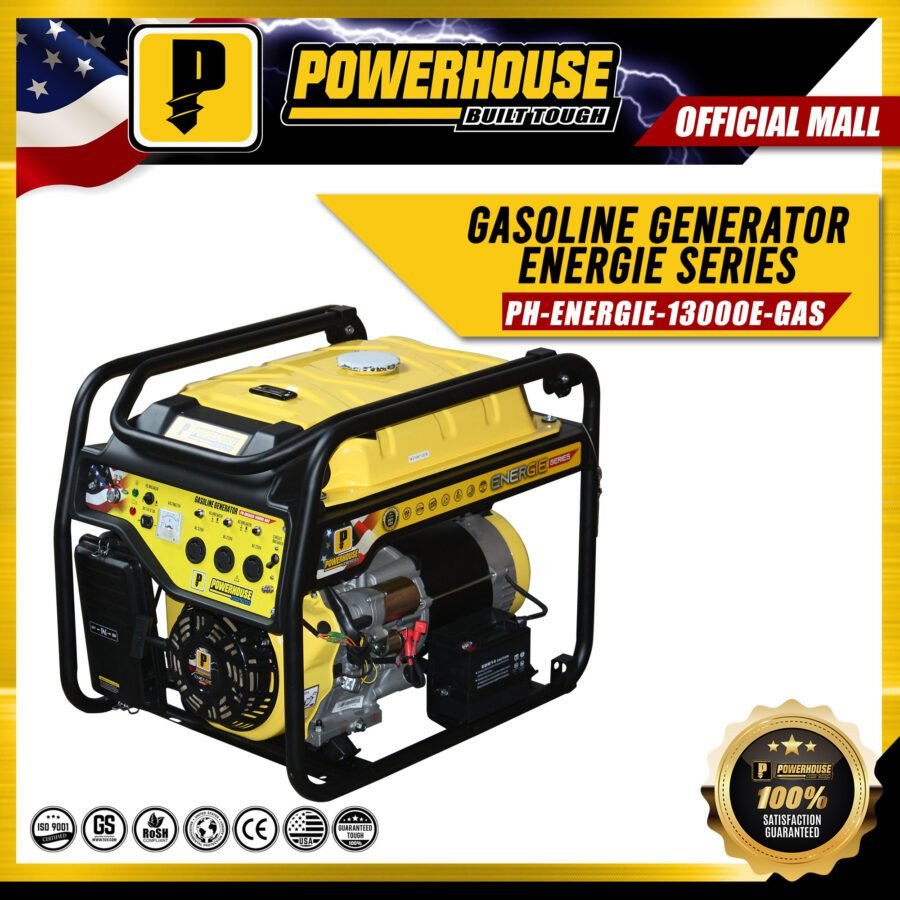 POWERHOUSE ENERGIE SERIES Gasoline Generator With Electric Start & Battery with Wheels & Handle Max Power 10.5KW KVA PH-ENERGIE-13000E-GAS PHI
Key Specifications:
Maximum Power Output: 10.5KW KVA Tank Capacity: 28 Liters Input Voltage: 220V Rated Power: 8300W Electric Start: Yes Portability: Equipped with Wheels and Handle ENERGIE SERIES: Part of our premium ENERGIE series High Quality: Built to last with top-notch materials Heavy Duty: Ready to tackle your most demanding power needs
Reliable Power, Anytime, Anywhere:
Our POWERHOUSE ENERGIE SERIES Gasoline Generator is designed to provide you with a dependable source of power whenever and wherever you need it. With a maximum power output of 10.5KW KVA, this generator can effortlessly handle a wide range of appliances and equipment, ensuring that you can continue with your activities without interruption.
Easy to Start, Easy to Move:
The electric start feature makes firing up this generator a breeze. No more struggling with pull cords – simply press a button, and you're good to go. Plus, the inclusion of sturdy wheels and a convenient handle means you can effortlessly move this generator to your desired location. Whether it's for a construction site, outdoor event, or as a backup power source for your home, portability is never an issue.
Fuel Efficiency and Large Capacity:
With a generous 28-liter tank capacity, this generator boasts impressive fuel efficiency, allowing it to run for extended periods without constant refueling. This feature is especially handy during prolonged power outages or when using the generator in remote locations.
ENERGIE SERIES Quality:
The ENERGIE SERIES is synonymous with top-tier performance and durability. Our generators are built to last, using high-quality components and rigorous manufacturing standards. When you invest in the POWERHOUSE ENERGIE SERIES Gasoline Generator, you're choosing a product that's engineered to withstand the test of time.
Heavy-Duty Performance:
Don't be fooled by its sleek design – this generator is a true workhorse. Its heavy-duty construction ensures that it can handle even the most demanding tasks. From powering your essential household appliances during blackouts to running power tools at a construction site, this generator won't let you down.
In conclusion, the POWERHOUSE ENERGIE SERIES Gasoline Generator with Electric Start & Battery (PH-ENERGIE-13000E-GAS PHI) is your reliable partner in times of power uncertainty. With its robust power output, ease of use, and exceptional portability, it's the ideal choice for both residential and commercial applications. Invest in uninterrupted power supply today and experience the peace of mind that comes with the POWERHOUSE ENERGIE SERIES.
Order Now!