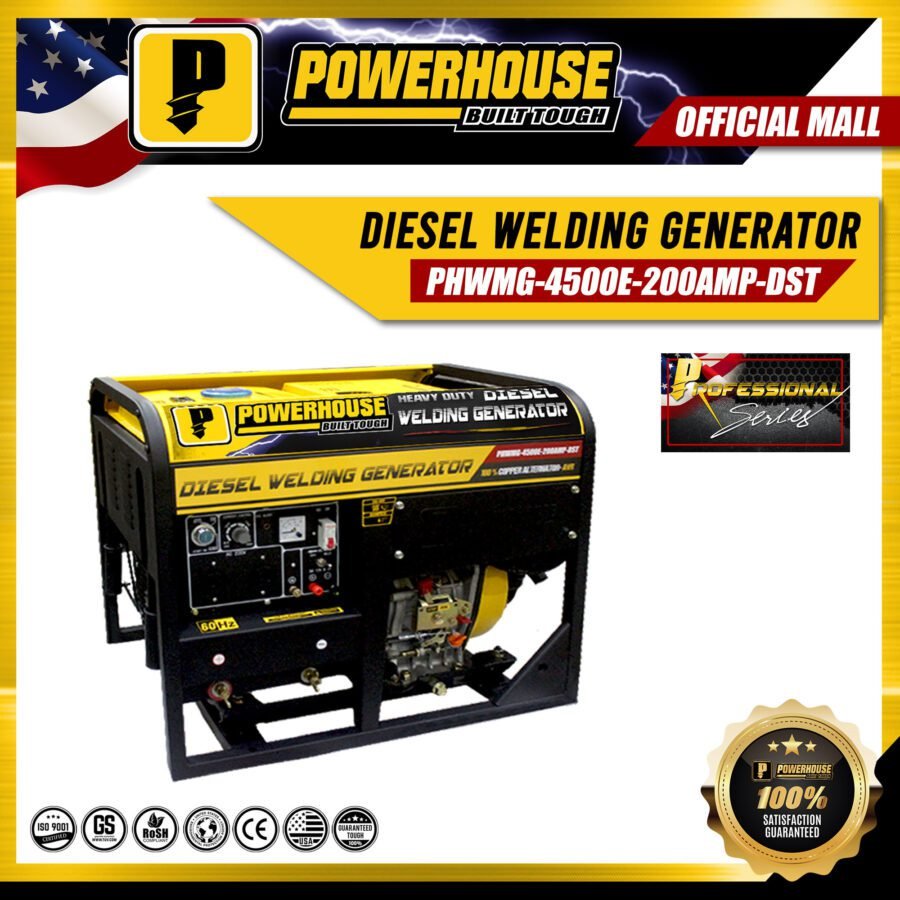 POWERHOUSE Welding Diesel Generator with Battery for Electric Start 100% Pure Copper PHWMG-4500E-200 PHI
Specifications:
Rated Frequency: 60Hz
Rated Voltage: 220V
Rated Current: 9.6 Amperes
Rated Power: 2.2 KVA
Rotation Speed: 3600 rpm
Welding DC Current: 190 Amperes
Rated Welding Work: 25 Volts
Current Regulation Range: 60-180 A
Power Factor (cos): 1
Rated Output: 7.5 HP
Fuel Tank Capacity: 17 Liters
Engine Model: SH-190F
Dry Weight: 120 Kg
Features:
Phase Number: Single Phase
Starting System: Electric Start
Engine Type: Single Cylinder, 4 Stroke
Air Cooled, Direct IDE
Why Choose the POWERHOUSE PHWMG-4500E-200 PHI?
Reliable Power Source: The 2.2 KVA output provides a stable power supply for your welding and electrical equipment, ensuring consistent performance.
Efficient Welding: With a welding DC current of 190 Amperes and a wide current regulation range of 60-180 A, you can tackle various welding tasks with precision.
Durable Construction: Built to last, this generator features a robust engine model (SH-190F) and 100% pure copper components, ensuring longevity and dependable operation.
Convenient Electric Start: Say goodbye to manual starts. The electric start system simplifies the process, getting you to work faster.
Fuel Efficiency: The 17-liter fuel tank capacity allows for extended operation hours, reducing downtime for refueling.
Compact and Portable: Despite its power, the generator is designed with portability in mind, making it easy to transport to different job sites.
Versatile Application: Whether you're welding on-site, running power tools, or providing backup power during emergencies, this generator has you covered.
Low Maintenance: The air-cooled, direct IDE engine design minimizes maintenance requirements, saving you time and money.
Invest in the POWERHOUSE Welding Diesel Generator with Battery for Electric Start – 100% Pure Copper PHWMG-4500E-200 PHI, and experience a new level of convenience and performance in your welding and power needs. It's time to elevate your productivity and efficiency with a generator you can trust. Get yours today!
Order Now!