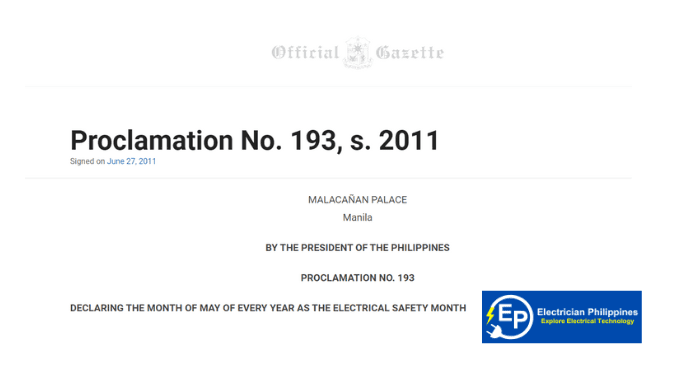 MALACAÑAN PALACE
Manila
BY THE PRESIDENT OF THE PHILIPPINES
PROCLAMATION NO. 193
DECLARING THE MONTH OF MAY OF EVERY YEAR AS THE ELECTRICAL SAFETY MONTH
WHEREAS, many lives and properties are lost due to fires and electrocution;
WHEREAS, most of these fires and incidents of electrocution are attributed to "faulty electrical wiring;"
WHEREAS, the main reason for the occurrence of fires and electrocution from electrical causes is not faulty wiring but ignorance in the use of electrical appliances and gadgets such as overloading of electrical outlets and the use of counterfeit electrical products such as circuit breakers, power strips, extension cords, batteries and holiday lights that can cause fires, explosions, shocks, and electrocutions;
WHEREAS, economic losses brought about by fires contribute to reduced productivity and therefore affect the economy of the country;
WHEREAS, there is a real need to increase public awareness on electrical safety and educate our people in the safe use of electrical appliances and gadgets and to bring to their consciousness the importance of applying these safety practices;
WHEREAS, the Bureau of Product Standards (BPS) under the Department of Trade and Industry (DTI) is the National Standards Body of the Philippines, mandated to develop, promulgate, implement and coordinate standardization activities with electrical products.
WHEREAS, the Institute of Integrated Electrical Engineers of the Philippines, Inc. (IIEE) has entered into an agreement with the Singapore-based International Copper Association-Southeast Asia (ICA-SEA), a non-profit organization, to conduct electrical safety awareness campaign in the country and to provide the opportunity to share best practices and help establish good. standard in electrical system in the Philippines; and
WHEREAS, an Electrical Safety Month in May would amplify and reinforce consciousness on electrical safety.
NOW, THEREFORE I, BENIGNO S. AQUINO III, President of the Philippines, by virtue of the powers vested in me by law, do hereby proclaim May of every year as the ELECTRICAL SAFETY MONTH.
It is further proclaimed that the IIEE and BPS shall conduct programs and activities on electrical safety throughout the year, in coordination and subject to the approval of the National Disaster Risk Reduction and Management Council (NDRRMC).
IN WITNESS WHEREOF, I have hereunto set my hand and caused the seal of the Republic of the Philippines to be affixed.
DONE in the City of Manila, this 27th the day of June in the year of Our Lord, Two Thousand and Eleven.
(Sgd.) BENIGNO S. AQUINO III
By the President:
(Sgd.) PAQUITO N. OCHOA, JR.
Executive Secretary
Source:www.officialgazette.gov.ph